For many design entrepreneurs, being a business owner is a constant struggle of trying to find the right balance between working in the business and working on it. Interior designer Shayna Rose understood these challenges very well as the owner of Shayna Rose Interiors, which led her to create 4Dbiz. As the Founder and CEO of two successful companies, she now partners with designer businesses to provide consulting and ongoing operations support as a fractional COO, or Chief Operating Officer, on their teams.
Shayna's approach is a hybrid model based on the idea that a business cannot operate smoothly and expand if it does not have a strong and efficient foundation. By working with her as your fractional COO, you will learn how to develop and implement strategies that enhance your business and make day-to-day operations run more smoothly. Shayna can also help you address some of the common challenges in the industry, which will make it easier to stay organized and focused on your business efforts. Keep reading to explore some common challenges and discover how her best business practices can provide you with effective solutions.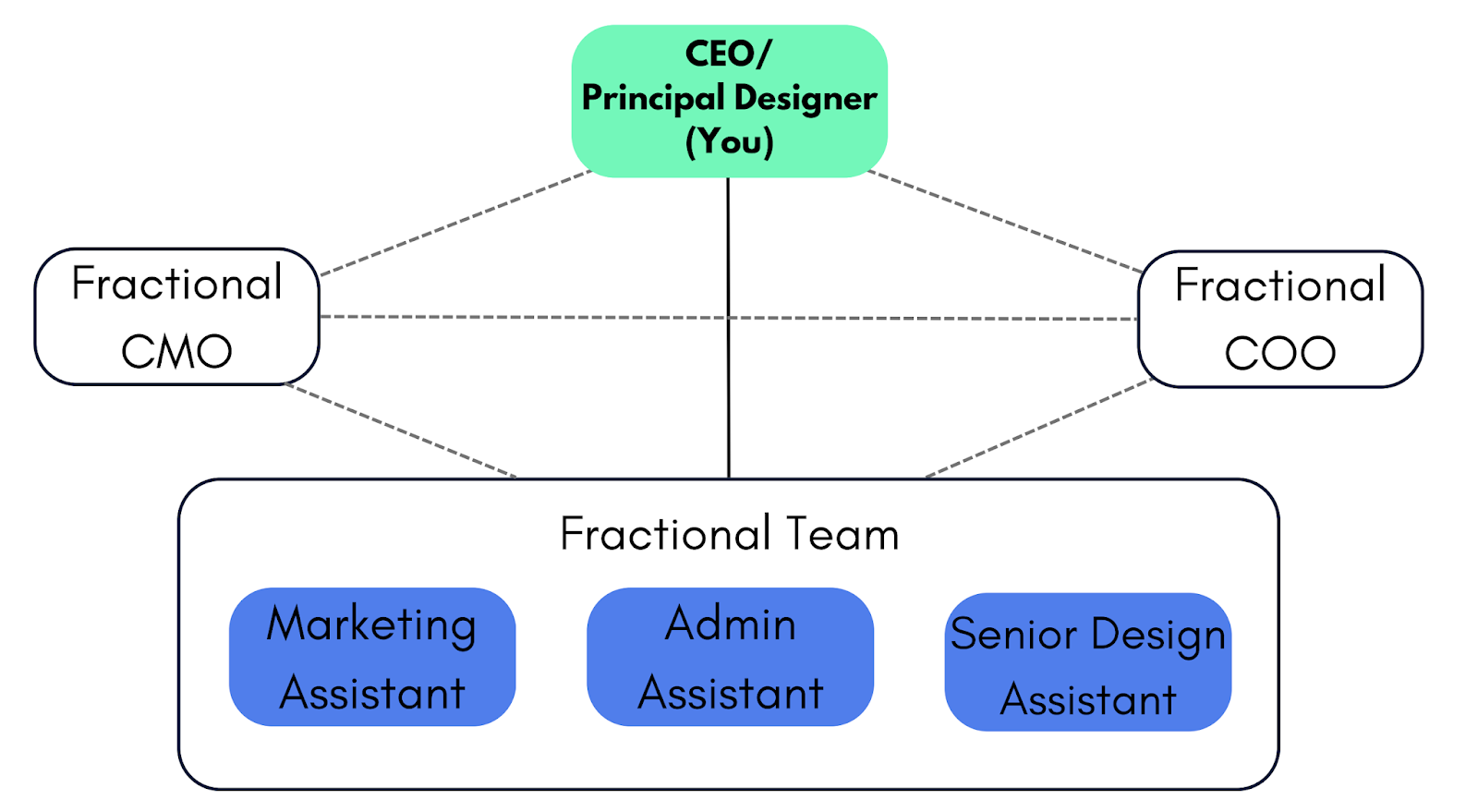 Client Acquisition
The first challenge most designers face begins before they have even accepted their first project. In fact, for some, getting clients is the challenge, and it can be a very time-consuming one. It often takes up to 4 times longer than it should to close a job. Some clients have a hard time deciding what they want, and others may be hesitant to commit if a proposal is out of their budget range.
As your fractional COO, Shayna can help you close jobs faster with more confidence. She recommends that you qualify leads as much as possible by looking out for any "red flags" that could cause you to waste time and lose profitability. Common qualification points to consider are:
You can also take advantage of opportunities to build trust with her tried-and-true process. Before you send a client any proposals, make sure to get on a closing call with them to talk it out. If the client is concerned about going over budget, identify their top priorities and negotiate with them to reduce the scope of work. This will help you ensure that your clients' needs are still met, so they will feel more comfortable moving forward with the project in a timely manner.
Don't forget about your own goals for your business, too. Shayna can offer her expertise in financial goal setting for businesses in every phase. She will share our Desired Salary Calculator with you, and help you chart a course of action to earn your ideal income. The best part is that you don't have to sacrifice your work/life balance or raise your prices to achieve it!
Business Protections
As you acquire clients, it is essential to put protections in place for their sake and yours. Clients never seem crazy at first, but sometimes first impressions are deceiving. Too many designers skip this important step, causing them to lose profitability on never-ending projects and get stuck in situations that they later regret.
You can avoid situations like these by creating a contract to align client expectations with yours before you begin working. Drafting up a contract might sound complicated at first, but Shayna can help you streamline the process. This blog features some of her tips on how to write contracts that protect your business. She has also created a time-saving template that you can use over and over again for each of your projects. Say goodbye to creating contracts from scratch every time! The template includes an example of how one company has set up their fees and schedules, which you can adapt to fit your business needs.
Speaking of fees, Shayna can help you develop a pricing structure with stronger protection, too. Remember the hybrid model that we mentioned earlier? It combines a flat fee retainer with hourly rates, instead of relying on just one fee structure. You must specify a maximum number of hours that you are willing to work for an estimated project fee. Shayna recommends stating in your contract that indicated hours are an estimation and that additional fees may occur. This allows you to bill for additional time at an hourly rate if a project takes longer than expected.
From our perspective, you can never be too thorough with a contract. Any client can be the right client for you if you align expectations properly. Don't make a common mistake that could cause costly frustrations down the road! Schedule an intro call with our team to set up a 4Dbiz account, and you'll be one step closer to improving your contracts and pricing model with Shayna. But of course, always consult a legal advisor as well before entering into a binding agreement!
Time Management
Another way to protect the profitability of your business is through effective time management. Time matters A LOT in the design industry. Ask any designer about their schedule and they will surely tell you that there are never enough hours in the day. But, more often than not, they don't realize that using time wisely requires some planning upfront.
Shayna will give you the planning tools you need to save time and streamline your business procedures. She will show you how to create a Project Roadmap that itemizes the design process from start to finish. You can apply it to all of your projects, so that you have a clear understanding of how long a project will take, how to price it accurately, and how to delegate to a team when the workload gets too heavy. You will also get access to a Custom Project Estimator that allows you to create thorough pricing proposals in 30 minutes or less.
If you're guilty of inconsistent time tracking (or not tracking your time at all), you're not alone. Shayna has met many designers who do not have a solid time tracking system in place because they don't know what technology to use for time logs. The problem with not tracking time properly is that it makes it very difficult to bill clients, as well as track profitability and efficiency for your business. After all, how can you identify where you're spending too much time if you don't have an accurate representation of your workflow in the first place?
This common frustration was the reason that Shayna integrated several useful technology features into the 4Dbiz portal. Some of the features include a built-in time tracking system and a to-do list to help you manage your time wisely. You can learn more about these features here. Shayna will also work with you during one-on-one sessions to incorporate these features into your business procedures and help you identify opportunities to improve your workflow efficiency.
Maintaining Profitability
Many designers are so focused on their efforts to grow their business that they forget to consider what their plan will be when they get there. Sometimes this leads to the disappointing problem of having to turn down work because they can't complete it all on their own. Other times, designers discover what once worked for them as a "solopreneur" no longer does when they take on a team. They must come to the uncomfortable realization that their business model has to shift.
Over the years, Shayna has learned that the key to long-term success is not just achieving profitability, but also maintaining it. She advocates that delegation is one of the most important factors when it comes to remaining profitable. But if you never delegated as a solopreneur, finding the best way to go about it may be especially challenging when tasks suddenly are piling up and work is still pouring in. Shayna is happy to share tips and techniques to help you delegate effectively to your team. Once you learn how to do this, you will no longer be forced to turn down work because you don't have the capacity to take it on. Instead, you can reap the rewards of unlimited business growth!
Getting Started
Now that we have explored some of Shayna's solutions to the common challenges that designers face, let's discuss the details of onboarding her as your fractional COO. The process includes up to 5 hours of one-on-one sessions, where you will break down your goals and make a plan to achieve them together. The hours are completely customizable. They may include financial goal setting, project road mapping, project estimation, a contract review, and so much more.
A designer who recently started working with Shayna expressed a need for a better system for pricing and closing jobs. Within just 2 weeks, Shayna equipped her with a roadmap to outline every step of the design process and the tools she needed to estimate jobs quickly. The very first client call that Shayna took on her behalf closed for $15,239 in design fees. Now we call that a success! Not only that, but the designer's team also has a plan to navigate seamlessly through the project, and their client knows exactly what to expect because it is laid out in the crystal clear contract.
The benefits of working with Shayna don't stop after onboarding. Once she has joined your team as a fractional COO, you can expect to receive ongoing support for all of your business operations. This may include pricing jobs, creating proposals, implementing policies and procedures, leading client calls, closing jobs, and problem solving. With her partnership, you can redefine the way your business operates, solve common frustrations in the industry, and put systems in place to maximize profitability during every stage of business growth. So, what are you waiting for? The first step is to schedule a demo with us and create your 4Dbiz account today!