An interior designer's average work day is swamped with decision making, details, and endless to-do lists. Sometimes it's simply too much for one person. You can outsource work or train new employees, but it still takes a lot of time to do so. Founder, CEO, and interior designer Shayna Rose was inspired to create 4Dbiz by the lack of available interior design business support that could be outsourced to just one team.
At 4Dbiz, we have taken the time to do the training for you. Our highly-skilled team of virtual assistants makes it possible to receive flexible, by-the-hour interior design business support from just one company, no matter where you are. Read more below for a snapshot of some of the services we offer, along with some examples of recent tasks we completed.
Drafting Assistance
Drafting assistance is one of our most common requests from designers. Our team is proficient across a variety of drafting technologies, including AutoCAD, SketchUp, V-Ray, Enscape, Coohom, Foyr, Chief Architect, and more. We can assist with two- and three-dimensional design and technical drawings, ranging from floor plans and elevations to photorealistic renderings and walkthrough videos.
We recently drafted a 3D model and renderings for a residential project designed by the team at Urban Gypsy Styled. To get us started, we were initially given an image of the architect's plans: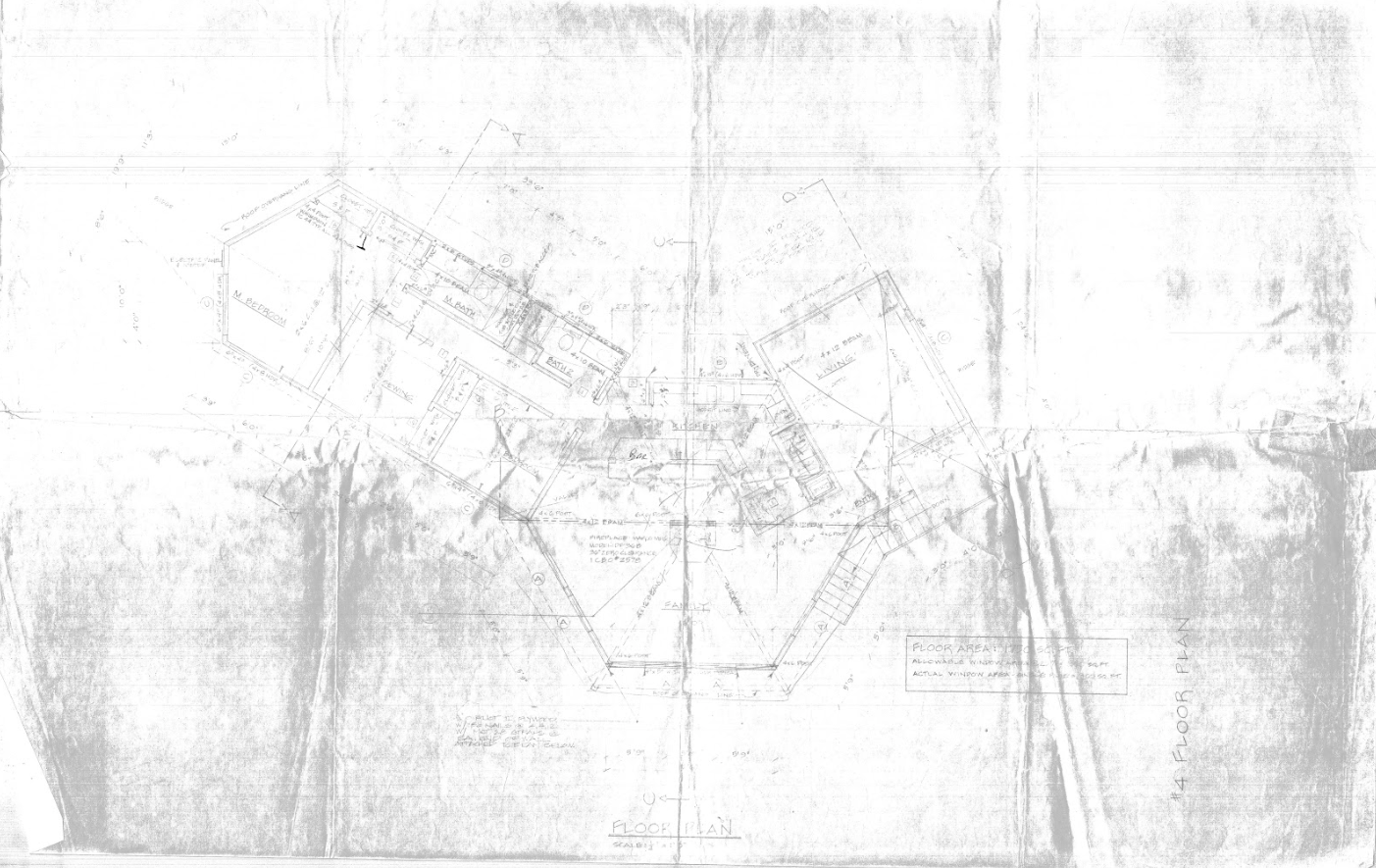 We imported the image into Coohom and modeled the residence from the ground up. We communicated with the Urban Gypsy Styled team through Asana and Coohom, in order to make sure that every detail of the model was accurate. Once we had created the skeleton of the model, we worked through revisions and took their team's lead on furnishings and finishes to meet their deadlines. The Urban Gypsy Styled team brought passionate energy and a high level of detail to the project, and we loved teaming up with them. Take a look at what we produced together!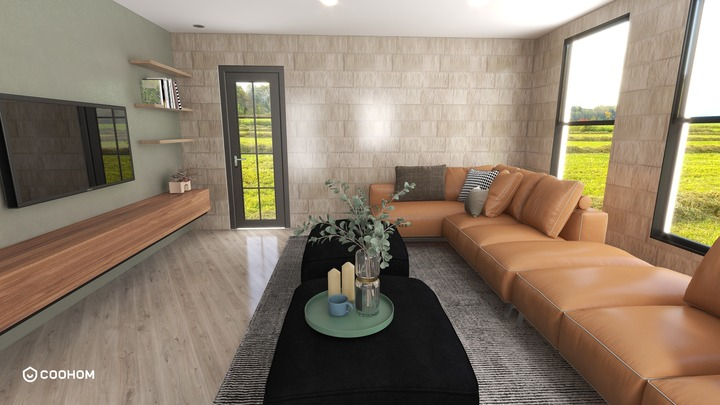 Design by Urban Gypsy Styled
Renderings by 4Dbiz
Sourcing Support
One of the advantages of working with our team is that we offer the flexibility to get support for just one part of your project, or to see it through from start to finish. We can help you draft your project first and then find the items to fit in the space, or we can jump straight into sourcing if you only need support in this area. Our skilled team will curate a selection of high-quality pieces for you, so that all you have to do is make the final decision.
Let's take a closer look at our sourcing process. We recently received a sourcing request from Casey at Cassandra Brand Interiors. She was looking for an 8×10 or 9×12 foot rug in a transitional or traditional style for her client's entryway. She wanted something blue at a low to mid price point to coordinate with dining chairs in the open floor plan, and she provided a photo of a rug she liked as inspiration:

Inspiration curated by Cassandra Brand Interiors
Our team reviewed her request and got to work! We created a document with images, pricing and vendor information, sizing, lead times, additional notes, and links to each product. After we sent it to her, she provided us with valuable feedback and clarified that the client wanted to go with something a bit more geometric: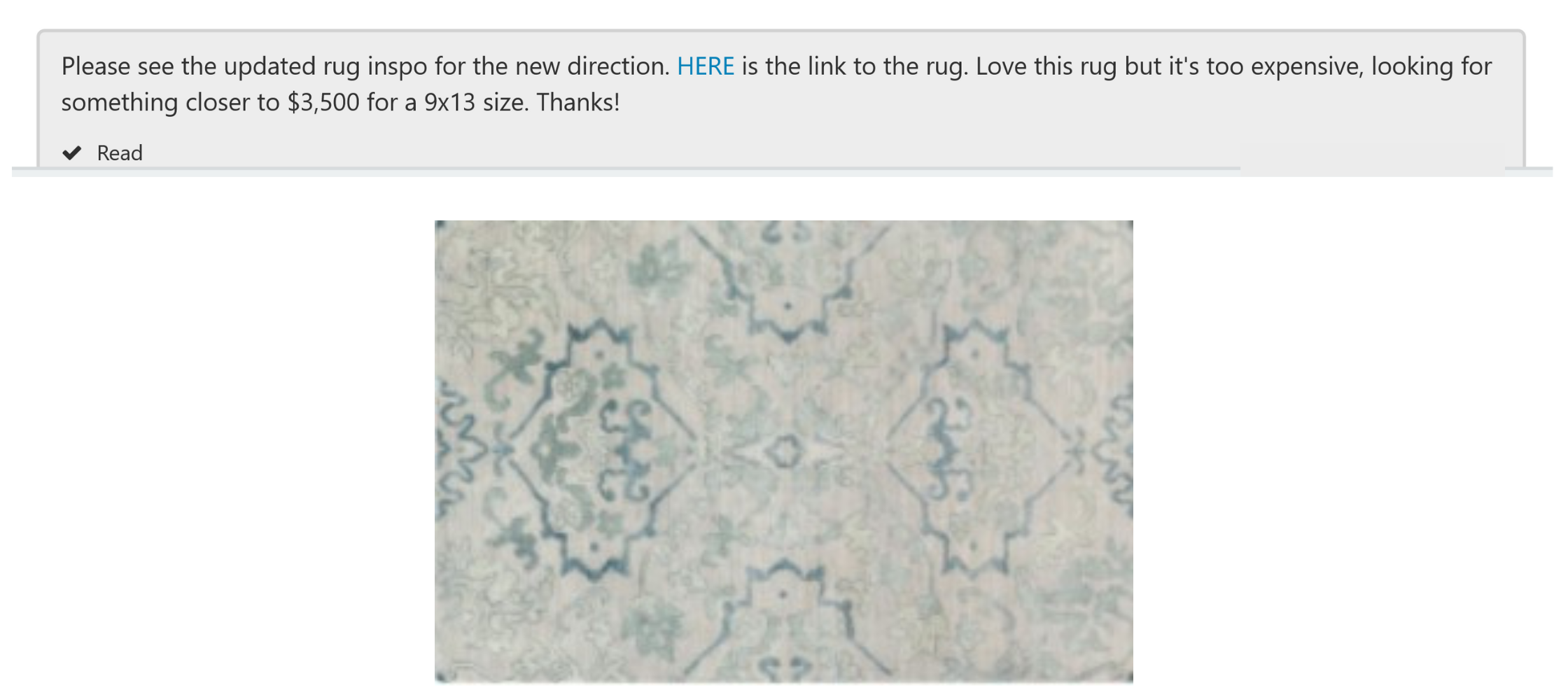 Here is what we produced from Casey's feedback: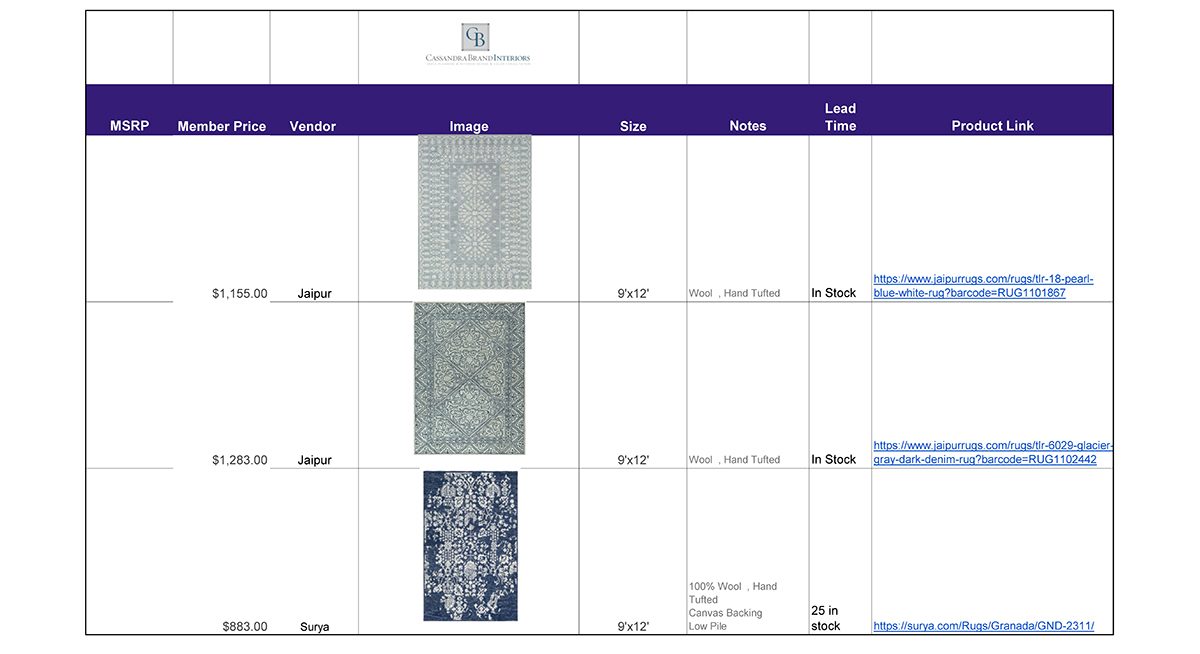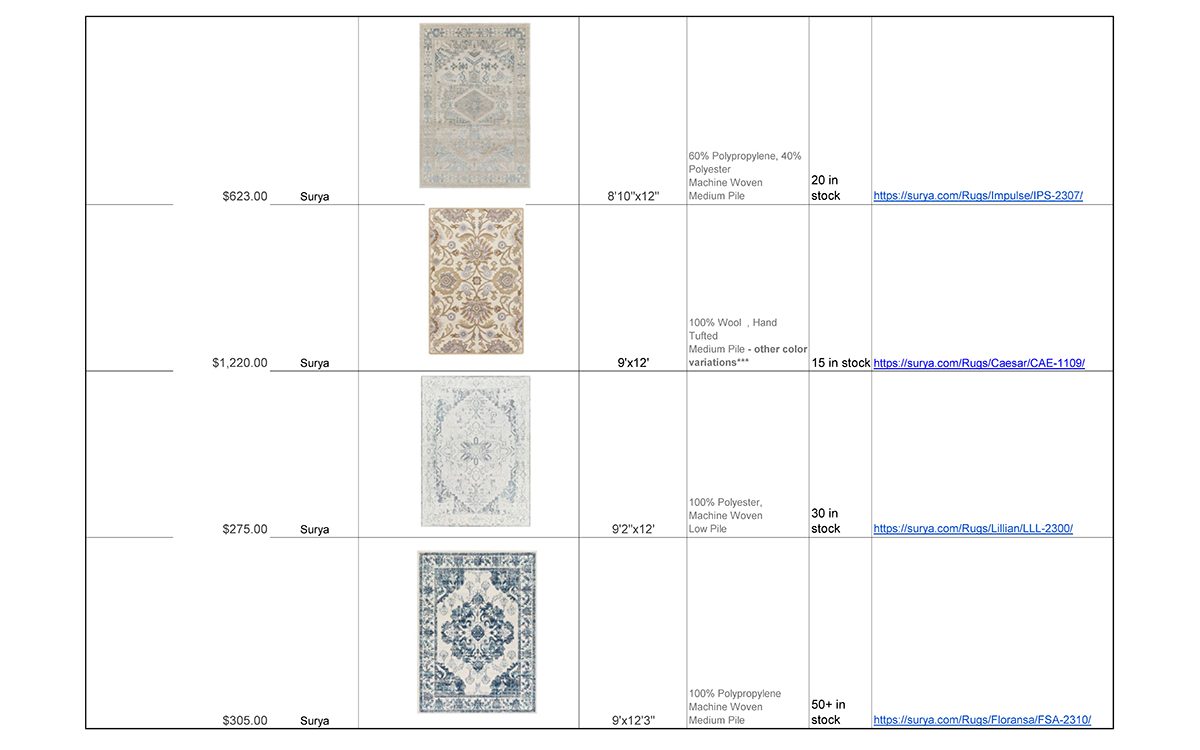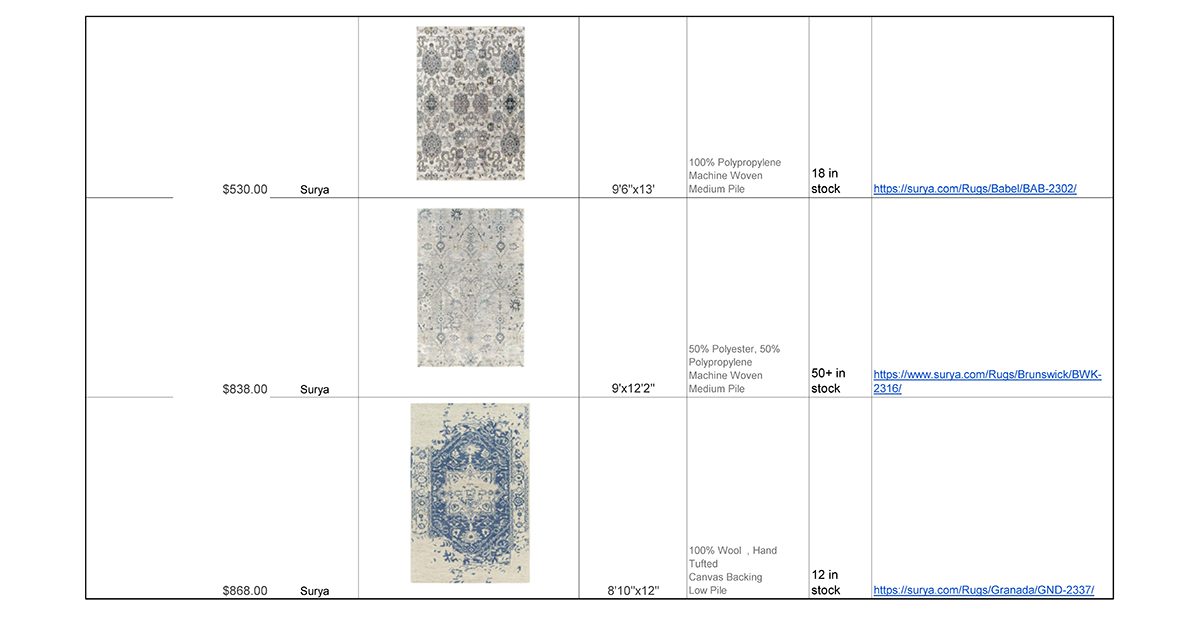 Sourcing by 4Dbiz
Instead of outsourcing tasks with several different companies or taking the time to train an entirely new team of employees, schedule a demo with 4Dbiz. We recognize that it can be extremely difficult to keep track of it all, and we want to help. Our team can provide you with flexible interior design business support, so that you can focus on the tasks you love most!