Whether you're a seasoned interior designer or you're becoming familiar with the industry for the first time, sourcing the perfect products for clients can be a time-consuming challenge. It requires a lot of effort behind the scenes to research and find items that fulfill your vision. 4Dbiz offers sourcing support for interior designers who are looking to devote more time to other aspects of their business without sacrificing the quality of sourced items. Our team of experienced virtual design assistants is ready to help at your convenience, and our online platform has a vendor organization system to support all of your sourcing needs. Talk about a dream come true!
Virtual Assistant Support
Our 4Dbiz team can help you with a variety of sourcing tasks. We can identify and compare product offerings, compile tear sheets, obtain pricing, and prepare estimates. Our virtual assistants have diverse skill sets and experiences in the industry. They know how to navigate the sourcing process efficiently to deliver high-quality results.
When you reach out to a virtual assistant for support, be prepared to answer qualifying questions. This will give your assistant better insight into the project and your client's specific needs. Here are some topics to consider:
Budget range and pricing:
What is the budget/range? Moderate? High-end?
How would you like pricing presented? Retail? Trade/net pricing?

Preferred vendors, labels or accounts: If there are specific wholesale or trade accounts you'd like us to use, please provide login or contact information. This will allow us to gather pricing in a timely manner.
Sizes/Dimensions: do you have any space plans for guidance?
Style/Aesthetic: do you have mood boards or inspiration photos that would be helpful?
Anticipated lead times: are there any stock/availability expectations we should be aware of?
If you're not sure where to begin, or you need additional support, don't hesitate to reach out to our Sourcing Specialist. We'll help you identify how to get started. And we can guide you through the process as little or as much as you like.
Vendor & Rep Organization
To streamline the sourcing process and help you stay organized, our platform also features the My Vendors portal. It is an extremely useful organization tool that helps you spend less time on administrative tasks. The portal can hold all of your vendor and representative information within the 4Dbiz platform, so that you always know exactly where to look when you need it.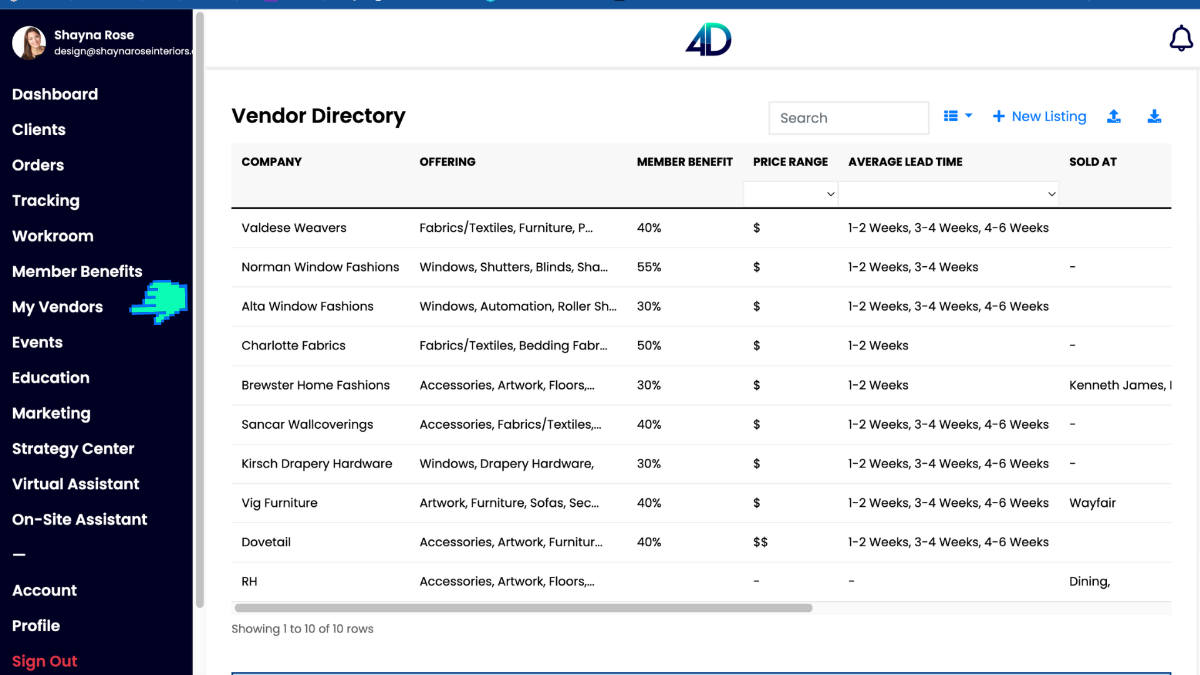 You can upload your entire list to the portal as a CSV file, or you can enter information manually at your own pace. The detailed list allows you to specify product offering categories, average lead time, login credentials, and more for each vendor. You can even add contact information for vendor representatives, so you'll never have to hunt it down in an email again!
The portal is helpful when you are trying to quickly identify products that could potentially meet your client's needs. How many times have you tried to source a specific type of item, such as artwork, but you couldn't remember which vendors offer it? With a quick search in the portal, you can easily locate all vendors that sell artwork or any other item category.
The My Vendors portal is free to use with a subscription to our Member Benefits Directory. Not only will you receive exclusive access to tons of discounts and vendors, but you can also keep all of your vendors neatly organized in one place. Not ready to subscribe to the directory just yet? You can sign up for the My Vendors portal only for $25 per month.  Check out this blog to learn more.
Our sourcing support for interior designers can be a major game changer for your business. Whether it's through expert virtual assistance or improved vendor organization, we have a wide range of resources and a dedicated team to help you cultivate success. Reach out to us today to schedule a demo and learn more about all of the many convenient features of 4Dbiz!