One of the best things you can do for your interior design business is to implement a strong system of organization. If you've already got a full week on your business calendar, the last thing you need is to spend precious time searching for vendor contact information and hunting down account passwords when you're ready to order products. 4Dbiz has the perfect time-saving solution for you. The My Vendors portal offers efficient vendor organization for interior designers all in one place, making it easier than ever before to access your vendor information.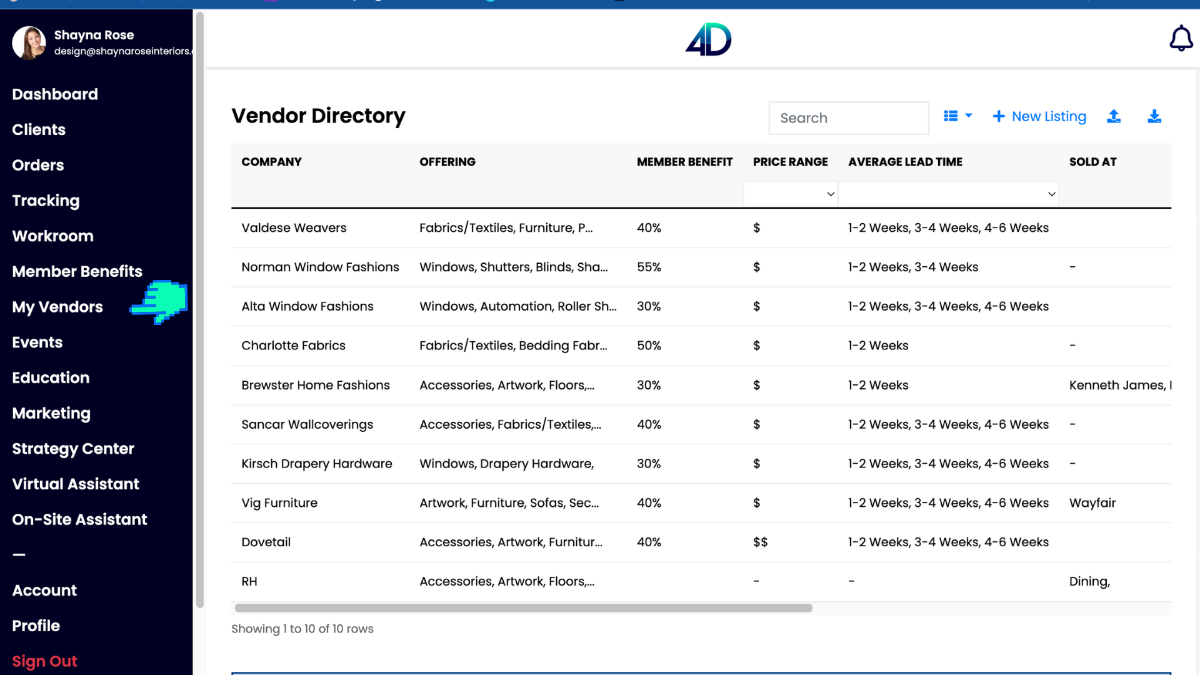 In the My Vendors portal, you can organize all of your accounts in detail, including:
Label name
Product offerings (these communicate with the search bar for easy sourcing)
Your discount
The discount you offer your clients
Average lead time
Retailers that sell this label
Login credentials
Representative contact information
Price range
Catalogs
Adding information to the portal is straightforward and easy. You can add new listings manually as you make connections and open accounts, but you also have the ability to upload a bulk of information to the portal. Using our simple CSV template, you can import all of your existing vendor information in no time. HERE is a quick video to show you how.
When you combine all of your vendor information in the portal, you will save yourself valuable time that can be spent on design and other tasks to enhance your business. You can search your list for vendors who make specific types of products, such as accessories or textiles, and compare discounts and lead times among them. If you work with others, share your vendor list with your team members, so that everyone has access to the same information. This will streamline the ordering process and help your employees to be self-sufficient. The user-friendly interface is convenient, too, because you can reference and manage it even when you're traveling or on the go.
The My Vendors portal is included as a free bonus with a subscription to the Member Benefits Directory, which offers exclusive discounts and access to a variety of premiere, wholesale, and trade accounts.
Not ready for the directory just yet? There is also an option to subscribe to the My Vendors Portal only for $25 per month.
Say goodbye to the days of drowning in spreadsheet updates and forgotten password requests. Vendor organization for interior designers just got a whole lot easier. Sign up for a 4Dbiz account today to get started.