For many interior designers, running an efficient business is harder than it sounds. Most design business owners tend to wear a variety of different hats. They jump from client meetings to drafting to site measures to sourcing, all in a day's work. With so much to do, there is little time left (if any) to take a good, long look at business operations. If you do, you might be surprised to find that administrative tasks, like estimating jobs and creating proposals, are taking up too much of your valuable time. Well, what if we told you that there is a simple way to streamline those tasks? Keep reading to learn how to price interior design projects more accurately and efficiently.
At 4Dbiz, we offer support from a fractional team to address efficiency across all avenues of your business. Our Founder and CEO, Shayna Rose, can join your team as a Fractional Chief Operating Officer (COO). She will work with you to identify more efficient ways to run your daily operations, including pricing incoming jobs.
When you work with Shayna, you also receive access to a proposal builder template. You can use this template over and over again to quickly estimate project costs, itemize your scope of work, and save yourself time creating proposals and contracts. It is crucial that proposals are thorough and accurate, and we know that building them from scratch takes a lot of time. If you're currently spending hours on every proposal, it is most likely cutting into the profitability of your business. There is no need to build a proposal from scratch for every project. Instead, you can use a straightforward, customized template that does most of the work for you.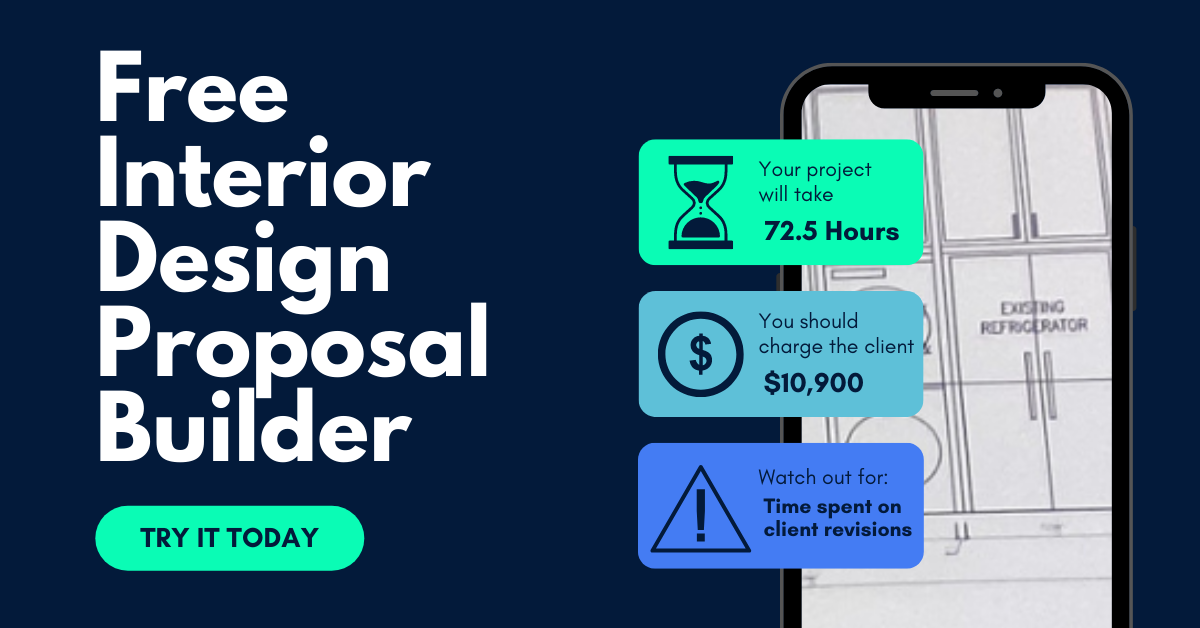 Our free interior design proposal builder is a simplified version of the full template. It will help you determine how long a project will take. However, keep in mind that it does not feature all of the detailed customization options that make our full template so helpful.
To help you stay organized, we broke down our full template according to the four phases of the design process. These include concept design, construction and furnishings, revisions, and ordering and expediting. Shayna can help you create a Project Roadmap that itemizes the design process from start to finish, based on these four phases. You can use it for all of your projects to understand how long each one will take and how to price them accurately.
Once you have outlined a roadmap, building a proposal with our template is quick and easy. Simply plug in the relevant information for a particular job to create a custom proposal. The front page of the document automatically provides a calculation of the total number of hours and total cost for the entire project. You will need to customize:
Your phases, based on your design process
Deliverables and action items for each phase of your process
Hour allocation based on your average time spent
Your hourly rate
Say goodbye to the days of starting from scratch and pulling all-nighters for proposals. With this useful tool, you can learn how to price interior design projects in 30 minutes or less. This leaves you with more time to focus on the quality of your work and business growth. But that's not the only reason to work with us! You will also have the support of an experienced team, who can assist with any (or all) design-related tasks for your business. Reach out to book an intro call with our team and start building a better business today!