When your design business is booming and you're especially busy, it's easy to become a bit jaded by all the moving parts and pieces. That's where 4Dbiz can help. In addition to paid services, members have access to a multitude of free tools for interior designers. Each tool has been designed to help you stay on top of the many tasks you juggle.
From business coaching to purchasing to virtual assistance to digital marketing, 4Dbiz offers the tools, technology, and team support you need to grow your business. We are a life-saving powerhouse team with the knowledge and expertise to skillfully take on any tasks you delegate to us.
Even if you're not ready to start working with our team just yet, you can still give your business a boost with the resources on the 4Dbiz platform. We offer tons of free tools for interior designers to grow at their own pace. Let's take a tour of the most helpful free tools we offer, shall we?
Client Management Portal
One of our most important free tools for interior designers is the client management portal. This portal allows you to keep a running list of all your active clients. It effectively condenses what could be a mess of papers on your desk into an organized space-saving system that's convenient and easy to use.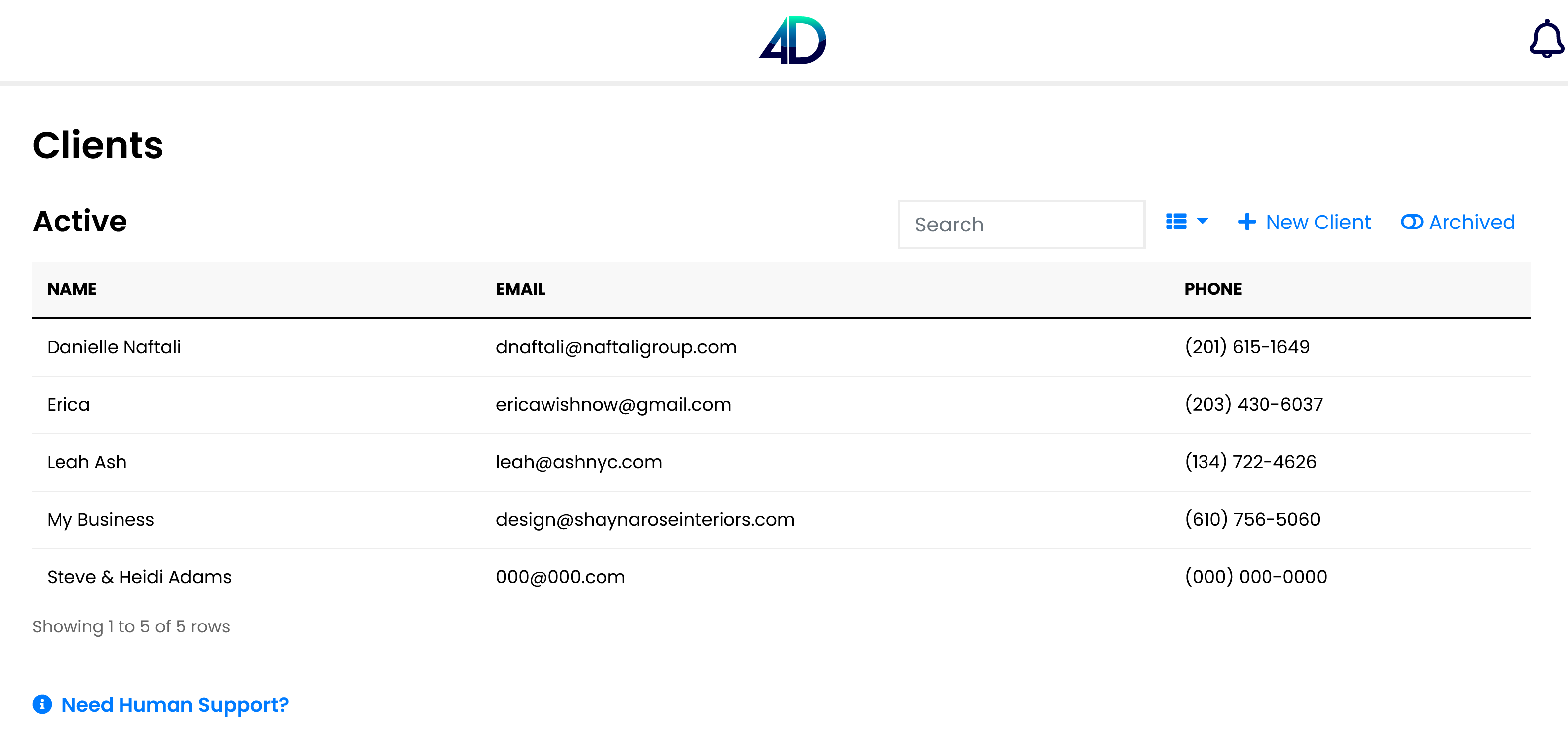 All client names and contact information are displayed alphabetically in a simple list format through which you can easily scroll or search. Under each client's name, you will find additional tabs that tell you everything you need to know about that client's design project. You can use the client management portal to:
Organize your to-do list for project deliverables
Keep track of billable time
Keep track of orders
Upload relevant images (inspiration, products, site photo documentation)
Digitally store floor plans and renderings
Write detailed notes about your client's preferences
Submit requests for 4Dbiz virtual assistant support
Manage 4Dbiz virtual assistant tasks
A well-planned system of organization goes a long way for your business, your clients, and your sanity. Strong organizational skills convey a sense of professionalism and exceptional service, which allows you to build trust with your clients.
This free time management tool will not only help you stay organized, but it will also open up your schedule so that you can spend more time focusing on the fun stuff!
CTA here. Want to learn more about how to manage your clients effectively? Schedule a call with our team today!
To-Do List
4Dbiz's To-Do List feature alone is worth its weight in gold for busy interior designers. We've done the work for you to set up an organization system that is straightforward and efficient. You can keep all of your tasks for every project organized, giving you the ability to quickly identify outstanding tasks and upcoming deadlines.
Say goodbye to pulling up 10 different documents and tabs when you work on a project! You can enter details for each task, including a description, the deadline, and estimated hours, in the To-Do List. Time spent on a task can also be tracked, and there is even an option to pass tasks to 4Dbiz's virtual assistants when you're feeling swamped.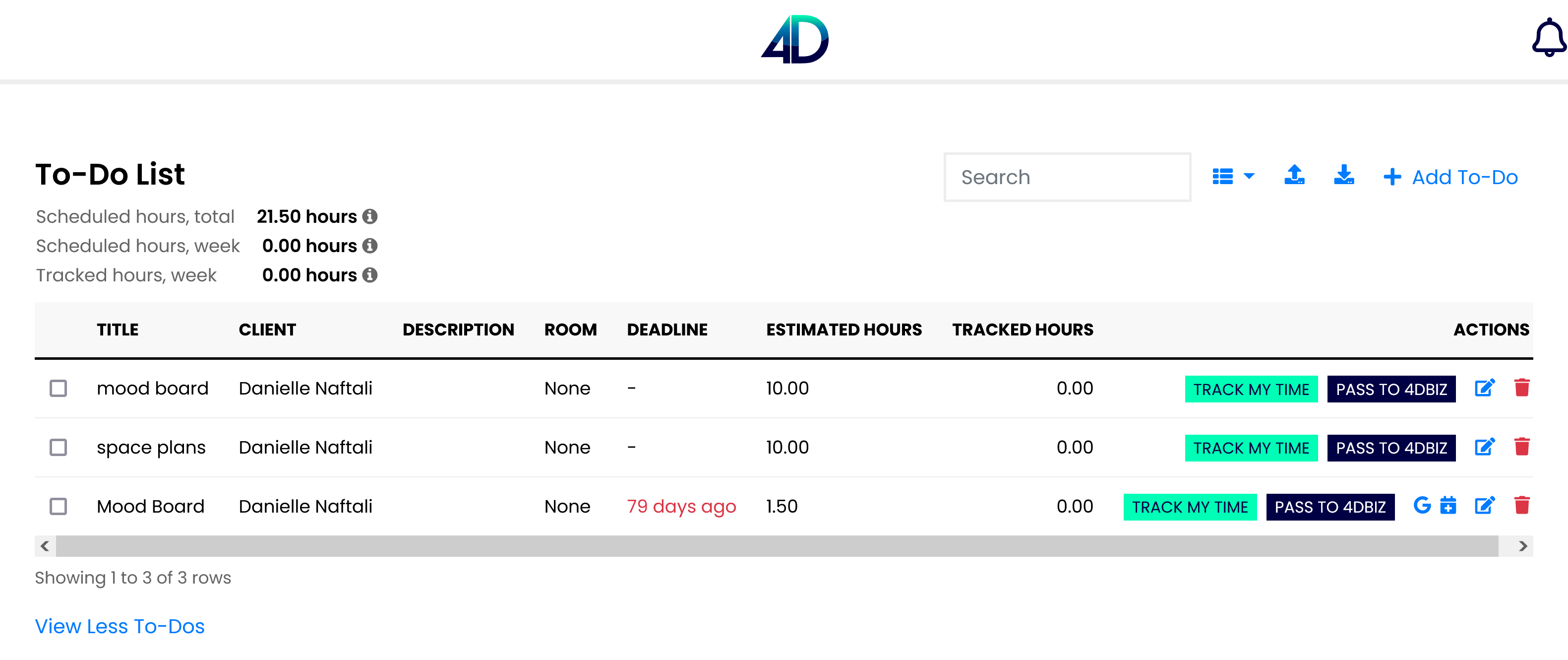 You can add tasks directly in the To-Do List, or you can opt to import a list if you already have one that's ten miles long when you become a member. As you complete them, tasks can be marked as complete. Completed tasks are separated from the outstanding tasks. You can still reference completed tasks, but they won't bog down your list with unnecessary information or take your focus away from your priorities.
Virtual Workroom
Interior design can be a competitive industry, so you probably already know that it's important to make your business stand out. One solution is to offer high-quality custom products that make your designs truly unique. However, sourcing custom products on your own can be a time-consuming process. That's why 4Dbiz offers the Virtual Workroom.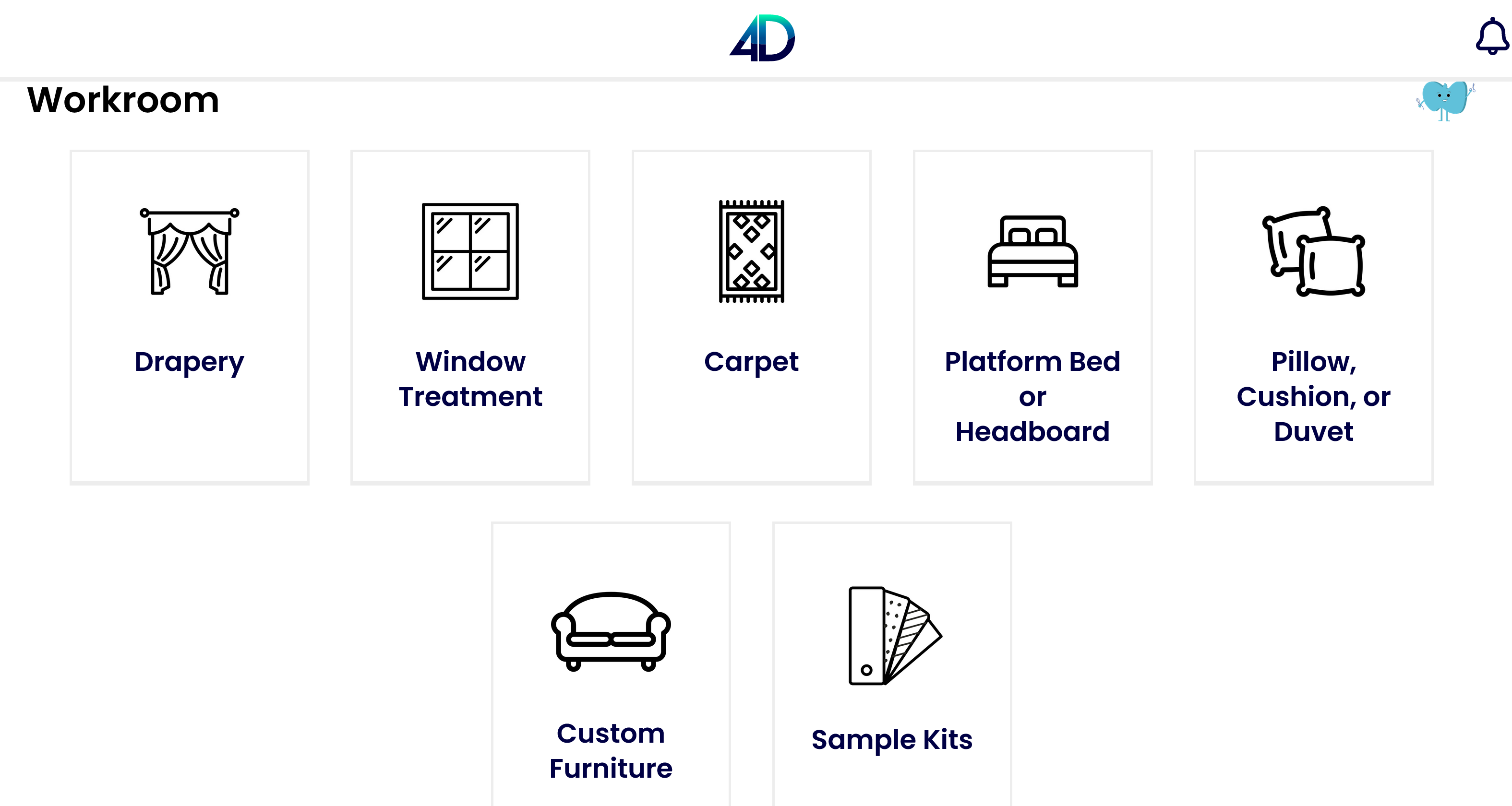 With access to the Virtual Workroom, you can request estimates and order a variety of products and custom decor that fit your client's needs. Examples of offerings include:
Drapery
Window treatments
Carpet
Platform beds/headboards
Bedding – pillows, cushions, and duvets
Custom furniture
Sample kits
4Dbiz members are not required to use our virtual assistant services in order to access the Workroom. It is a complementary resource that gives you the flexibility and creative freedom to be as innovative as you want with design projects.
Strategy Center
Now let's switch gears and talk about the strategy for your design business. At 4Dbiz, we've got your back on this aspect, too! You can use our Strategy Center to develop and build on the foundation for your business and ensure that it operates smoothly.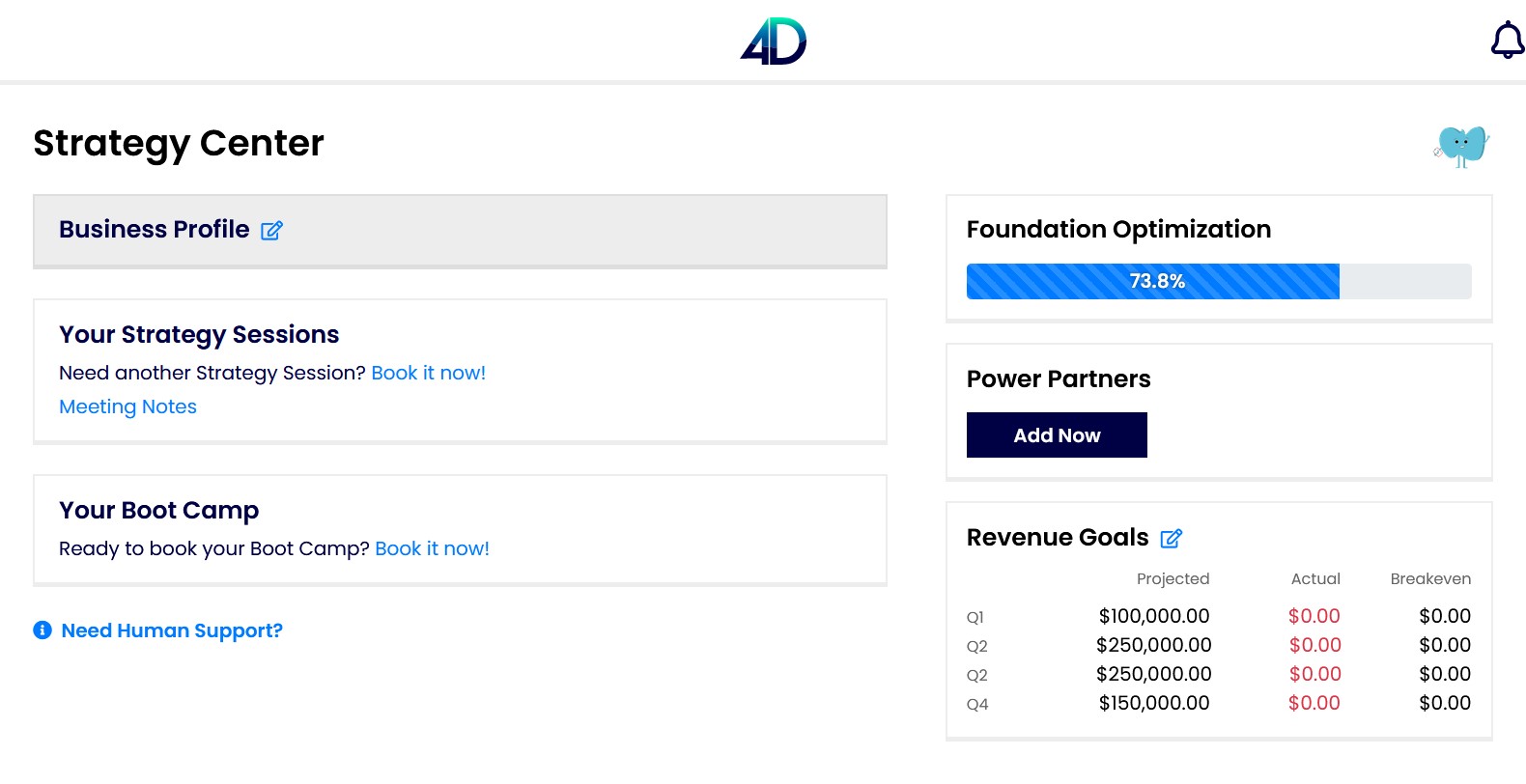 Start by creating your business profile, which holds all of the pertinent information for your design business. The profile is designed to spark ideas and guide you through the process of developing a solid business model. In your profile, you can identify your:
Vision statement
Mission statement
Tag line
Customer avatar (your ideal client)
Client psychographics
Elevator pitch
Core values
Business goals (weekly, monthly, quarterly, and annual)
Revenue goals (quarterly and annual)
Defining your goals and values up front will help you monitor your business success over time. It's a good source of motivation to check in on your progress now and then, too. The "Revenue Goals" section even features an automatic calculator that allows you to track your progress towards your quarterly and annual goals.
Through the Strategy Center, you can also see how well you've optimized your business. If you're looking for some additional support with marketing or business coaching, schedule a Strategy Session with Shayna Rose, or participate in a two-hour marketing and strategy boot camp for an additional fee.
Additional Tools For Interior Designers
In addition to the resources highlighted above, 4Dbiz offers a number of other free tools for interior designers. Members also enjoy the benefits of:
Educational resources: Our education portal is filled with an array of resources to help you succeed in the design world. There are:
Glossaries to improve your design knowledge and expertise
Live recordings of vendor showcases to refresh your product knowledge
Articles to keep you updated on the latest industry news
Templates, including client questionnaires and contracts drafted by legal professionals
Opportunities to submit requests: if you need an educational resource we don't currently offer, email us and we'll get your question answered quickly and efficiently!
Virtual industry events: Enjoy access to group discussions on marketing, networking events, marketing presentations, live product demonstrations, and an impressive lineup of guest speaker presentations
Order tracking: Keep order information for all pending shipments in one place, making it easy to do a quick check on all order progress. You can opt to receive assistance from one of our Product Specialists, and they will follow up on all orders on your behalf.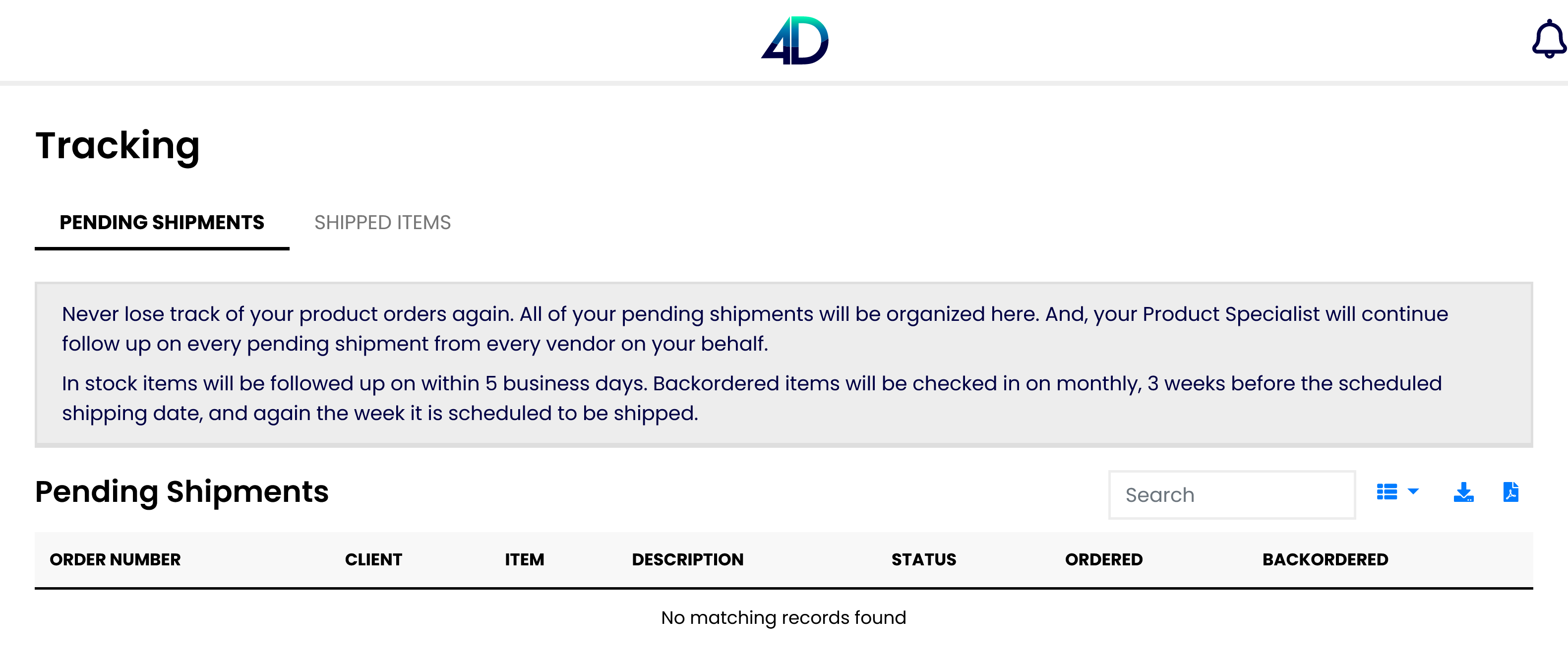 These are just some of the free tools for interior designers who are members of 4Dbiz.  If you're ready to take the next step toward success for your design business, register for a free account today!