Our 4Dbiz team loves nothing more than collaborations that turn into unstoppable partnerships! Earlier this year, our Founder and CEO, Shayna, joined Grayscale Homes as Fractional COO. Working closely with Tiffany Acosta, Owner and Principal Designer, Shayna has been responsible for streamlining business operations, creating a pricing model that maximizes profitability, and closing interior design jobs with prospective clients. Learn more about the details below!
How It Started
When Tiffany reached out to 4Dbiz, she was swamped with inquiries from prospective clients. She was struggling to find the time to manage them all. She was spending countless hours Creating and revising contracts, pricing jobs, sending proposals, and communicating back and forth with leads, but her prospective clients were still hesitant to sign a contract. Since jobs weren't closing quickly, she had little to show for her time-consuming efforts. Here is how Tiffany described one prospective client to Shayna: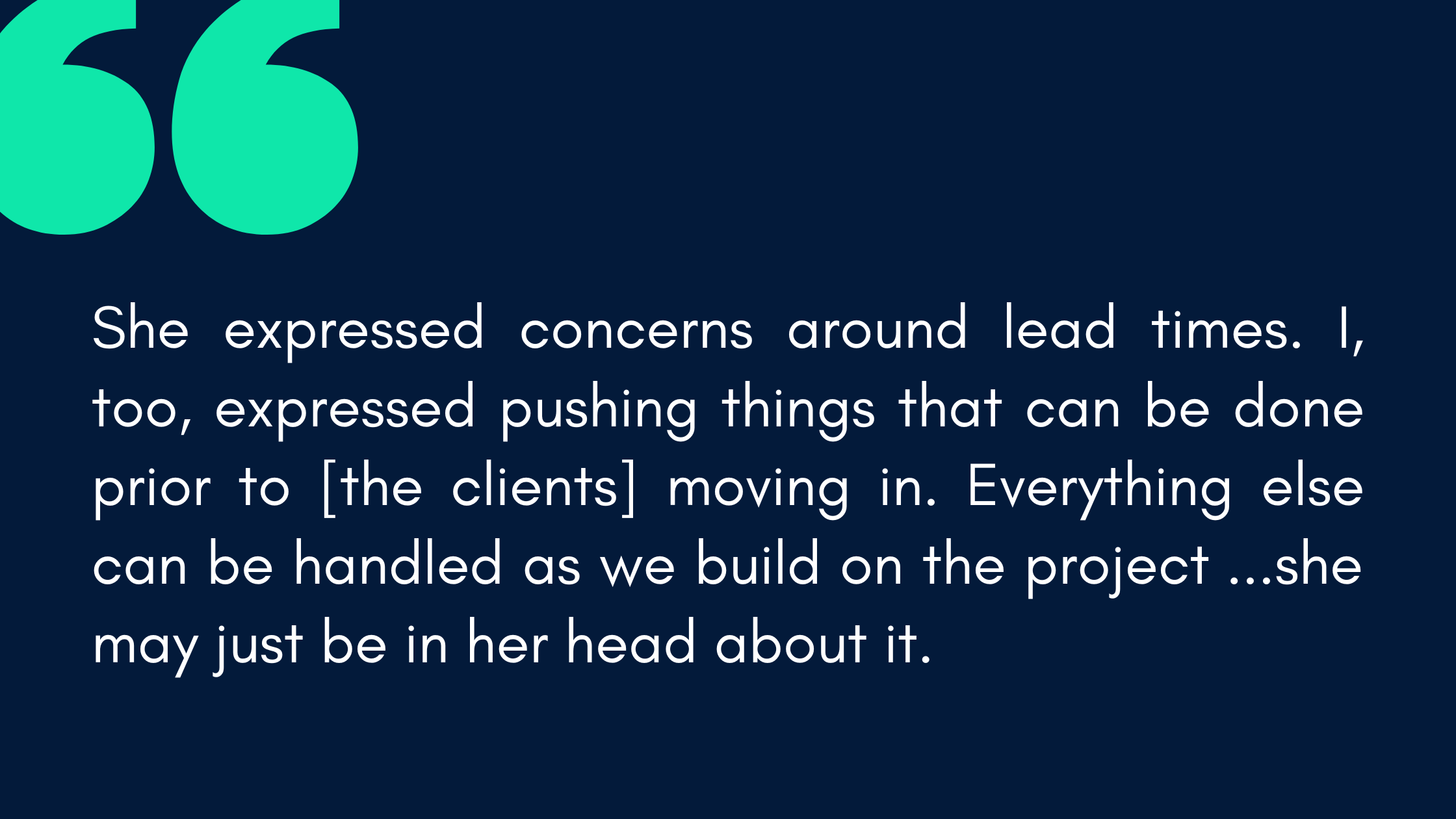 Tiffany needed a clearer pricing model to allow for flexibility, and stronger protection for her own business as projects progressed. She also needed a well-defined system of procedures for her business, in order to help her two employees use their time more efficiently. These missing elements were preventing her business from achieving an increased profit margin and growth. But with so much time spent working in her business already, she simply didn't have time left to work on her business at the end of the day.
How It Came Together
Drawing from years of experience as an interior design business owner and business strategist, Shayna was able to quickly identify business strategies to enhance the success of Grayscale Homes. She felt that the business could benefit from a stronger foundation, so she made it her mission to put one in place first.
To achieve this, she created a project roadmap for Grayscale Homes. The roadmap is a useful tool because it brings clarity to projects and shows design business owners exactly what to expect from a time and investment perspective. It outlines each phase of the design process, from beginning to end, and breaks them down by the items that need to be accomplished during each phase.  It can be used as a template, and it is also a major time-saver. Whenever she receives a new client inquiry, Tiffany can duplicate the roadmap and create an accurate estimate of costs and timelines for the project within minutes. It has been a game-changer for Tiffany, when it comes to efficiently producing important documents for her clients!
The roadmap also contributes to the client experience during the closing process for Grayscale Homes. It helps them understand exactly what to expect for their project from the very beginning, so that there is no guesswork once the project is underway. They can clearly see costs, timelines, and other important details upfront, which reduces the need for extensive back and forth communication and multiple revisions as well. This is a helpful way to make sure that everyone is on the same page throughout the design process.
To reflect the level of detail and clarity in the roadmap, the company's contracts got a complete overhaul, too. Shayna added the necessary clauses to the contracts to sufficiently protect Grayscale Homes. As an experienced Fractional COO for interior design businesses, she always advises that contracts are an important part of any successful business. They should not be overlooked. Contracts not only align client expectations, but they also protect Tiffany from legal action and never-ending projects that she can't exit.
With these new business operations in place, Shayna was able to close 4 new jobs for Grayscale Homes within 6 weeks! She joined Tiffany's team as her fractional COO to integrate recurring processes and provide ongoing support that will save her even more time as she takes on these new projects. After her initial client consultations, Tiffany passes the torch to Shayna, so that she can close jobs effectively. Tiffany can now also request support from Shayna to run team meetings, create proposals, price jobs, implement new policies or procedures, and put out "fires" when needed.
The Experience
Working with Shayna as her Fractional COO has been a huge relief for Tiffany and her business! Just a couple hours after their closing call with Shayna, her previously hesitant clients put their trust in Grayscale Homes and made the decision to move forward with their project. Here's what Tiffany had to say about the results Shayna achieved with these clients: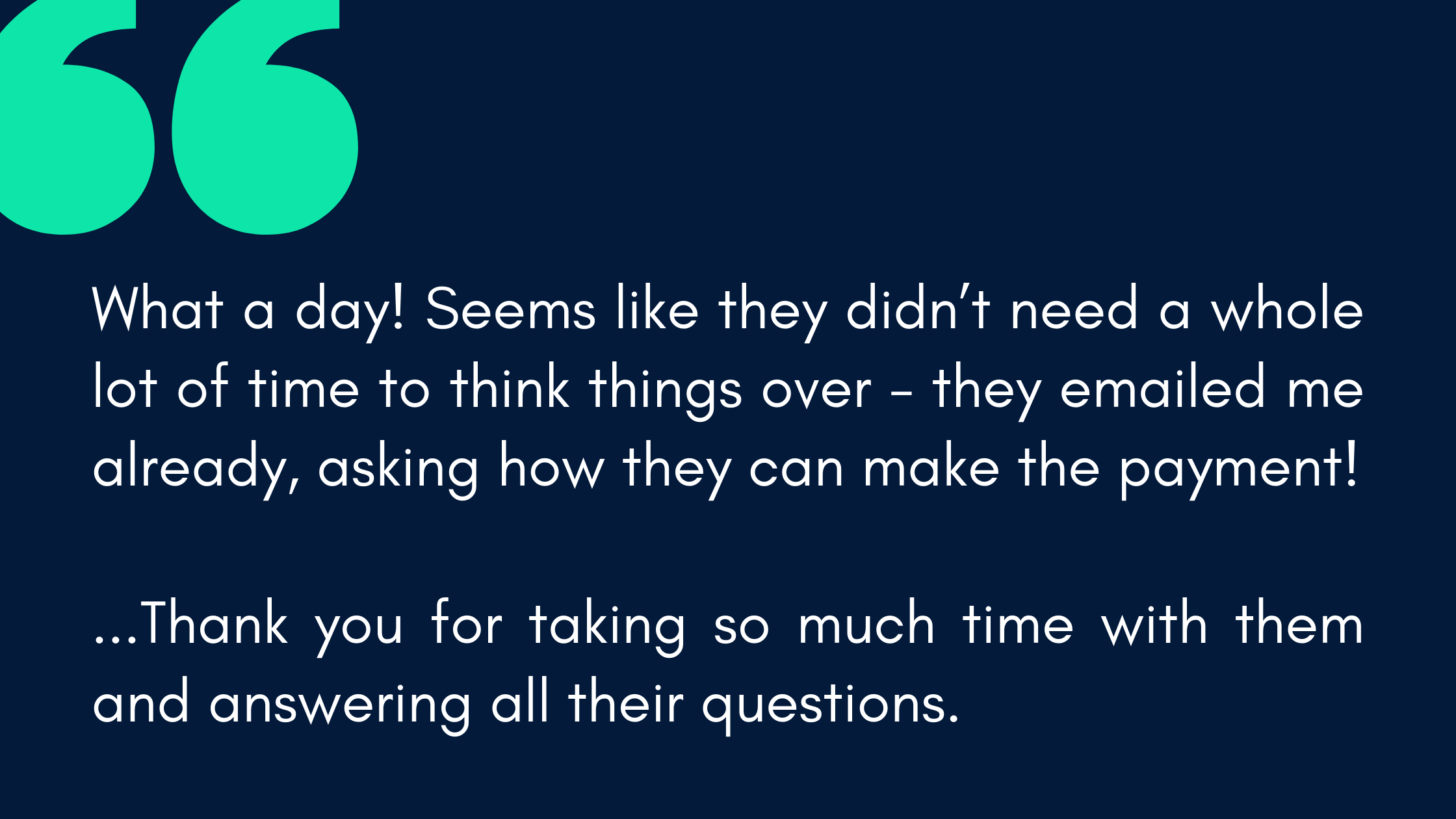 Fast forward to 6 weeks later, and Shayna closed 3 additional projects for Tiffany, generating more than $68,000 for her business! Tiffany has expressed how grateful she is to receive extremely detailed feedback and guidance from Shayna. It has allowed her to stay more organized and focused during each phase of the design process, and she loves her new workflow. Another win, if you ask us! We are so glad that we could play a part in realizing the potential of her business.
If you need guidance for closing interior design jobs or are interested in integrating Shayna as your Fractional COO, schedule an intro call with our leadership team today. Together, let's explore how 4Dbiz can help restructure your business and set it up for success!