Ask any interior design business owner about their daily responsibilities, and most can easily rattle off a mile-long list of tasks they need to complete. When you're trying to fulfill every job role within your business, it can be a challenge to find time to work on your business. Strategic planning and growth efforts, such as marketing, often slip through the cracks because there simply isn't enough time in the day. But digital marketing is all about consistency. You can't wait until you're slow to start thinking about marketing, or you're already behind the curve. That's why 4Dbiz offers professional marketing support for interior designers who don't have the time to do it all themselves.
The 4Dbiz team takes a well-rounded approach to maximize exposure for your business across a variety of different outlets and channels. Our marketing support for interior designers includes foundational efforts to help you get your name out there and ongoing efforts to continue growing your business after you have established your brand online. Keep reading to learn more about some of the ways we can implement diverse marketing strategies to clarify your brand identity, engage your target audience, and build your online presence.
Foundational Efforts
Branding
In order to represent your business successfully in the interior design world, you must first establish a visual identity through thoughtful branding. A typical brand kit includes logos, typography, a color palette, other visual assets, and examples of brand voice. A brand kit makes it easier to represent your business consistently across all digital and print platforms, and consistency is key when it comes to looking professional. The best kits tell a story about who you are and what kind of impressions you want your business to make, so that you can begin to establish recognition with your clients.
The 4Dbiz team would love to help you develop your visual identity. Your logo is a great place to start, since that will become the visual representation of your brand online and in print, but we would also love to collaborate with you on a customized brand kit. Check out the brand kit that we designed for Shayna Rose Interiors below!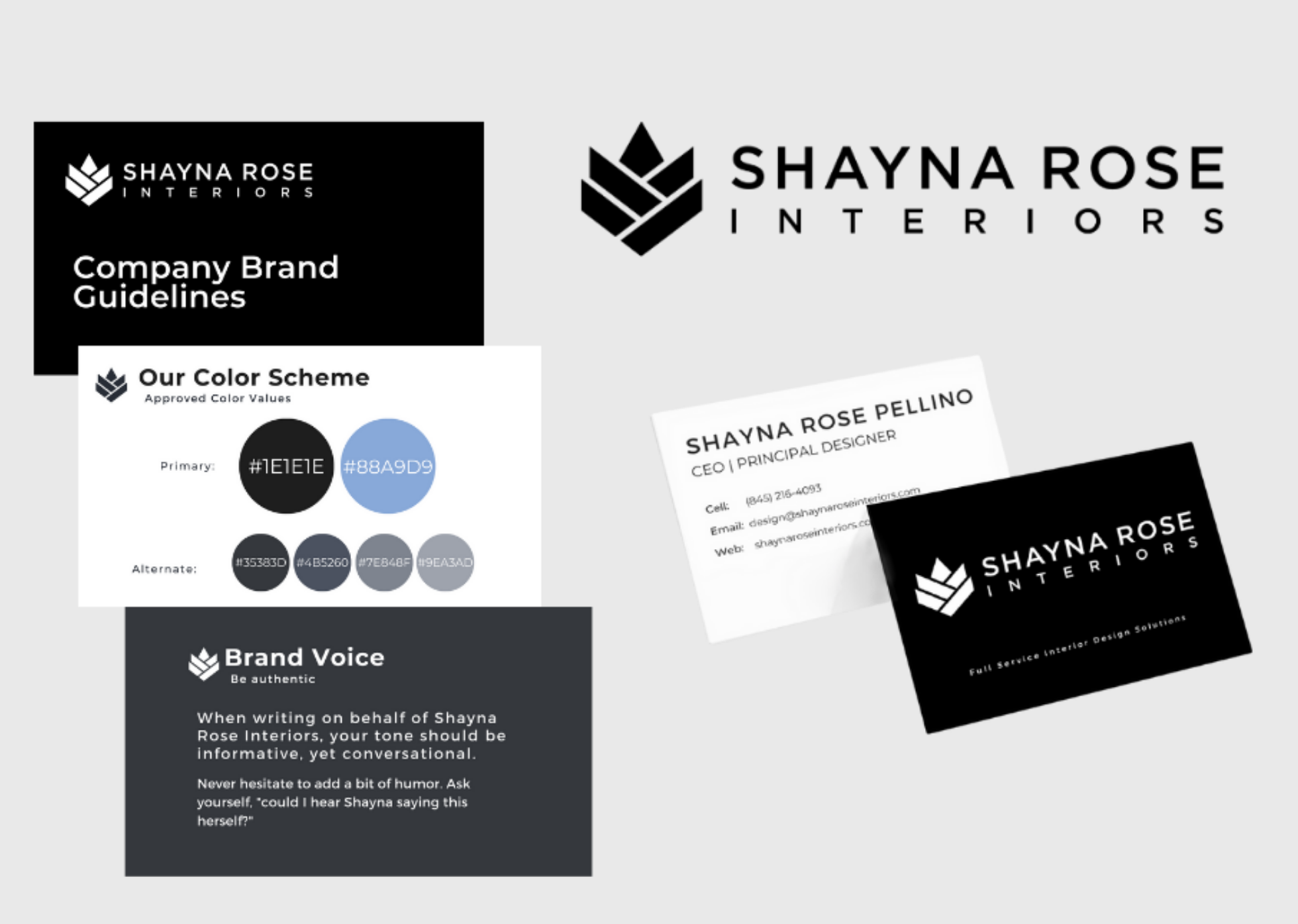 Logo and brand development for Shayna Rose Interiors by 4Dbiz
Web Design
With technology at our fingertips these days, it's becoming necessary for businesses to have an online presence. But perhaps you don't have the time or skills to make it happen. That's where our marketing team comes in. We can design a beautiful, functional website that will tell prospective clients everything they need to know about your business.
Already have a website that's up and running? No problem! Websites require maintenance to keep them up-to-date, and we'll gladly handle any edits to your existing website. We can help with copywriting, updating links, or creating new graphics to give your site a modern refresh.

Interior designs by Thornton Design. Website designed by 4Dbiz
SEO
When building a website, the graphic design aspect is only part of the time-consuming work that takes place behind the scenes. Have you ever wondered how search engines determine what websites will show up on the first page when you enter a specific search term? Search Engine Optimization (SEO) is also a very important component to ensure that your business is set up to attract organic web traffic.
SEO involves using specific keywords that rank your listing higher for search terms and draw visitors to your website. It requires some professional knowledge of web design and marketing in order to be effective. Luckily, our team has that expertise. We will save you the time and frustration of having to learn a new skill set in a matter of minutes by taking SEO work off your plate. We will make sure that the content we create for you is optimized when it is published, but we can also help you improve SEO for existing web pages, too.
Your business also gets an SEO boost when you create a Google Business profile. At the very least, you should claim and verify your profile, add your name and contact information, set your service area, and upload your logo. However, there are several steps you can take beyond providing this basic information to fully optimize your profile and increase your exposure to leads. Our team is experienced in managing Google Business profiles for interior designers, and we are happy to help you navigate the process to set your business up for success.
Automations
Once you have traffic coming to your website, you might be wondering how to convert that traffic into jobs. Lead generation is essential to acquiring new clients, and automations can help you capture more promising leads that may end up hiring you for a project. Following up with leads can be very time-consuming and challenging if you are also trying to stay focused on work for your current clients. Automations do the follow-up work for you, giving you one more thing to cross off of your to-do list.
We can help you create personalized automations that are authentic to your voice and brand values. Automations are often the first point of contact with a new lead, so our goal is to provide something valuable in every material that we send out. We can target specific segments of your audience with customized emails that trigger automatically when prospective clients subscribe to your marketing list, or design a questionnaire that qualifies leads before you spend time working with them. Not only will this save you a ton of time, but it will also allow you to make a consistent effort towards business growth.
Brochures
In spite of an industry shift to mostly online marketing, we recognize that there is still a need for print marketing in some instances, too. Brochures can come in handy to advertise a menu of your services to realtors, property developers, investors, contractors, other referral partners, and clients. Having a tangible object for prospective clients to take home with them serves as a direct reminder of your business and services. Our team is happy to help you create brochures that align with your brand voice as well. We will skillfully incorporate your logo and other visual assets into the design, while also making sure that the copy reflects the tone and message you want to convey.
Ongoing Efforts
Social Media
In addition to foundational marketing efforts for your business, we also recommend ongoing digital marketing efforts that allow you to do some direct outreach to potential clients. Social media is a must in our tech savvy world, but the actual platform where you should focus varies, depending on the target market you are trying to reach. It may include Instagram, Facebook, LinkedIn, Pinterest, or any combination of these platforms.
While it may not seem like a big commitment at first, time spent creating content, posting, and engaging with followers on social media can add up quickly. Our marketing team can create posts, reels, and stories to maintain your social media presence, build credibility, and expand your opportunities to generate new leads. We will present content as a monthly batch in a shared document. All you need to do is provide feedback, and we will take care of scheduling for you. We typically schedule content through Meta Business Suite or Planoly, but we can accommodate other scheduling platforms as well.
However, even with posts and reels of the highest quality, success is not dependent on content alone. It's also based on how much you engage with other users on social media. We can handle community management on a daily or weekly basis, so that you can spare your energy for the big business decisions and your company can continue growing in the meantime. We thoroughly track social media performance each month for insight into how we can continue improving your account, and our findings are compiled into an annual report for you at the end of the year.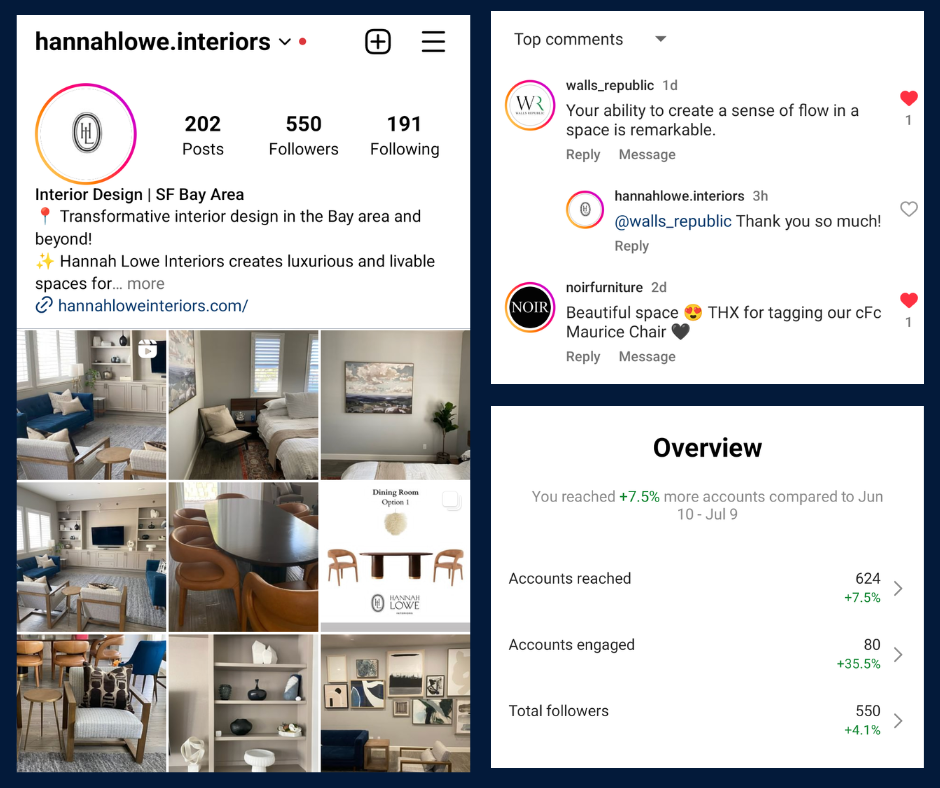 Interior designs by Hannah Lowe Interiors for Instagram content created and monitored by 4Dbiz
Blogging
Blogging is a great way to earn credibility with your readers and clients, while also optimizing your SEO. When you share free resources and educational articles, you demonstrate that you are knowledgeable about your field. We also suggest pairing your content with affiliate marketing, so that you can create another revenue stream for your business.
You are welcome to be as involved in the blog process as much or as little as you like. If you have a blog topic in mind already, feel free to let us know! If not, we can brainstorm topics together, or take the lead and offer our own suggestions. Our blogging services include content creation, one round of edits, and publication. We can weave affiliate links into the content, in an effort to monetize it as an additional revenue stream, or even help you set up affiliate accounts if you don't already have them.
Email Marketing
Like blogging, email marketing helps you stay top of mind with your existing audience and move prospective clients down the marketing funnel towards a buying decision. Many of our designers like to send out a monthly newsletter to provide business updates, run promotions, and learn more about their clientele. Our team can design a newsletter from scratch if you don't already have one, or we can revamp your current one.
This year, we have enjoyed working with Kristen from Interior Design Alchemy to give her newsletter a makeover. We applied her branding to keep it consistent from month to month, and we even had the opportunity to upgrade one of her resources in her brand colors. Kristen and our team are delighted with the final result and the response she has received from her newsletters this year!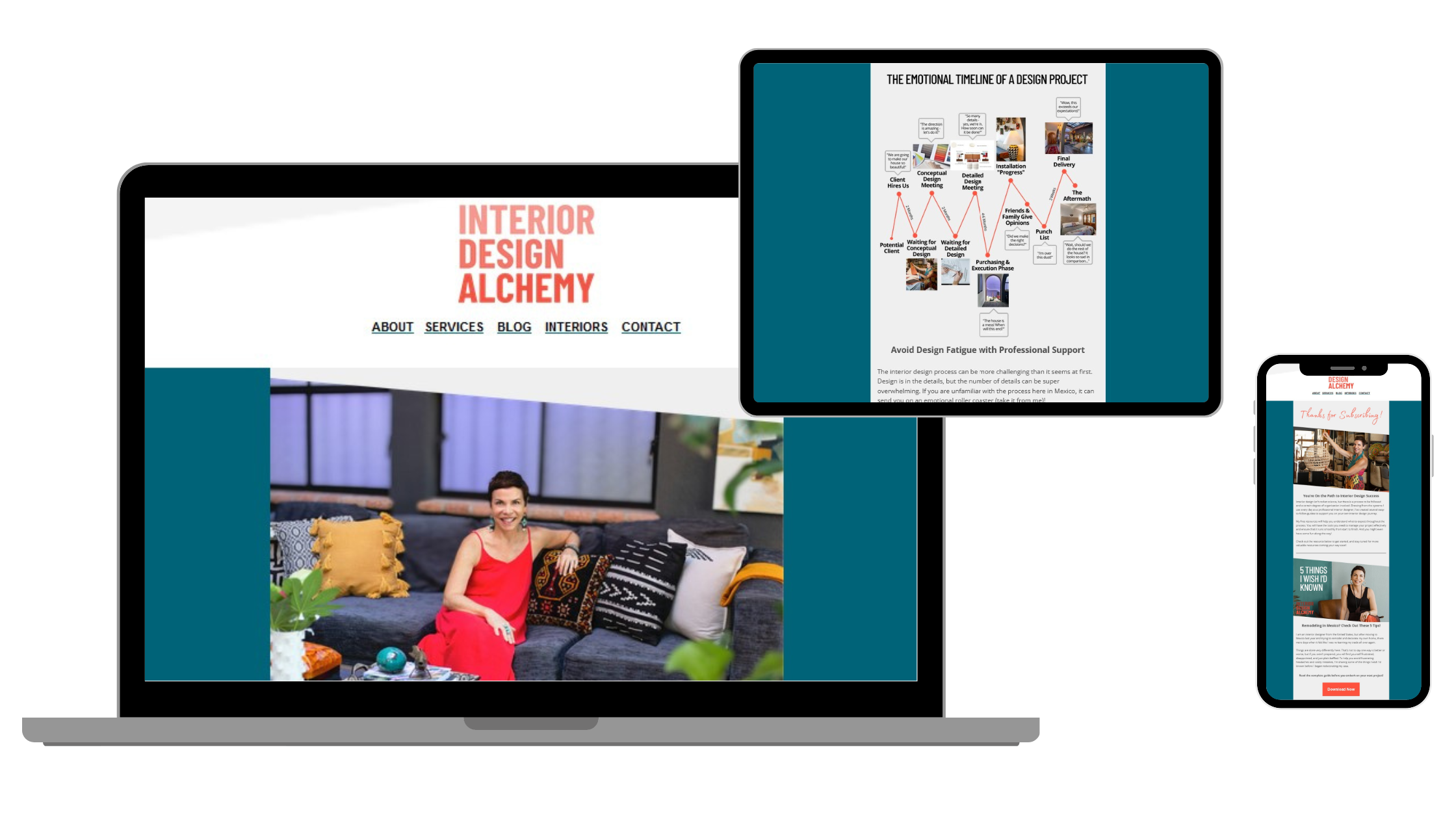 Interior designs by Interior Design Alchemy for an email campaign series created and published by 4Dbiz
The best part about working with us for email marketing is that it goes hand-in-hand with our other marketing services. For example, let's say our team has just helped you develop your visual identity and brand kit. We can then apply the colors, fonts, and logo from your brand kit to your newsletter to ensure consistency across all of your digital marketing efforts. Or perhaps our team is already managing your social media and/or blog. We can also share it to Stories on Instagram to increase engagement.
As you can see, our services provide marketing support for interior designers across a wide range of avenues. If you are interested in working with our marketing team, the first step is to get on our calendar for an introductory call. Schedule a demo with our team today to learn more about how we can streamline marketing efforts for your business.