Summer is almost here, and with it comes a palette of new and revived colors to refresh interior spaces. This summer, we are seeing an overall shift towards warm and soothing colors – think warm neutrals, tones of brown and red, and delicate pastels. We've explored these summer 2023 color trends in greater detail below. Check them out to see how you can incorporate them into your designs for an updated look!
Warm Neutrals
Neutrals are always a timeless choice for any season, and this summer is no exception. However, there has been a shift away from cool neutrals. Lately, neutrals with warm undertones, such as pink and red, have been featured by paint companies, interior designers, and DIYers alike.

Images from Valspar
Valspar named Ivory Brown, Cozy White, and Villa Grey among their choices for the 2023 Colors of the Year. These colors evoke feelings of comfort and warmth. They can be used to create a cozy, inviting atmosphere that soothes the mind and reduces stress. Neutrals have a sense of effortlessness, too, which makes them perfect for spaces that are used during lazy summer days. Because of their versatility, they work well in transitional spaces, such as entryways and great rooms.
Brown and Red Tones
Brighter colors are usually selected to coordinate with the undertones in neutrals, so it makes sense that brown and red tones are also trending this summer. Popular tints and shades of these colors range from light neutrals with very little saturation to rich, statement-making jewel tones.
Several paint brands have highlighted variations of red and brown in their color selections for 2023: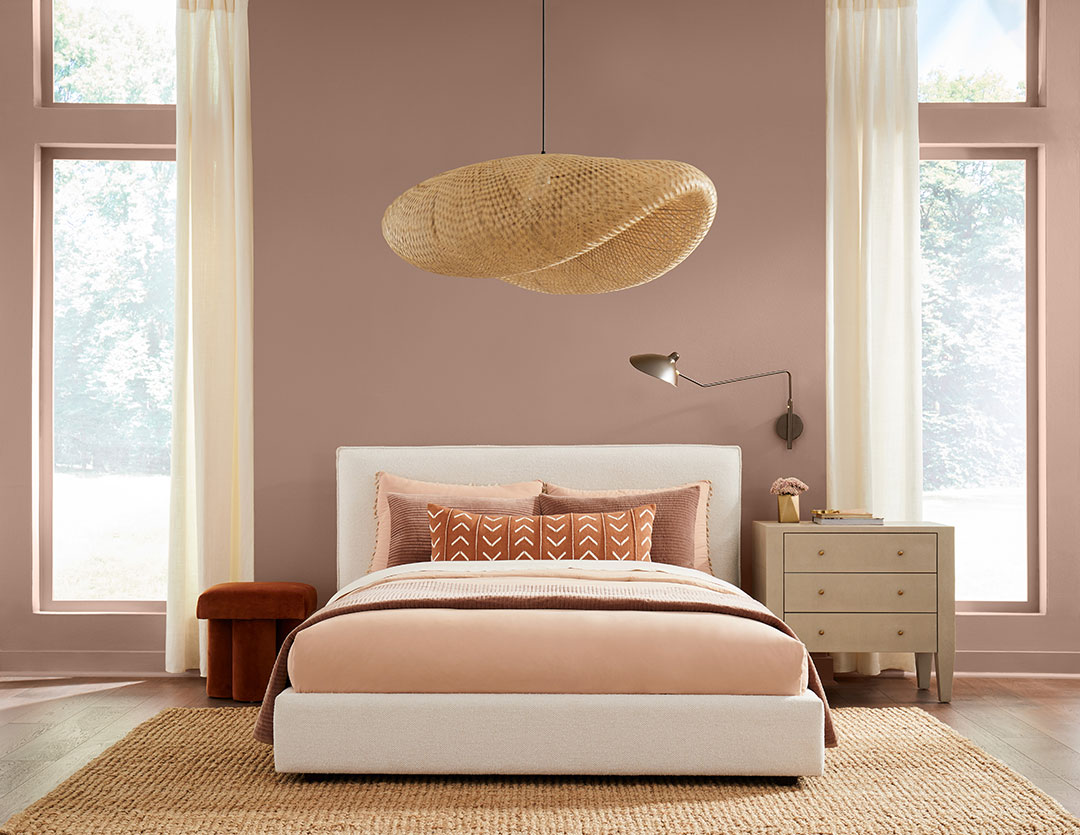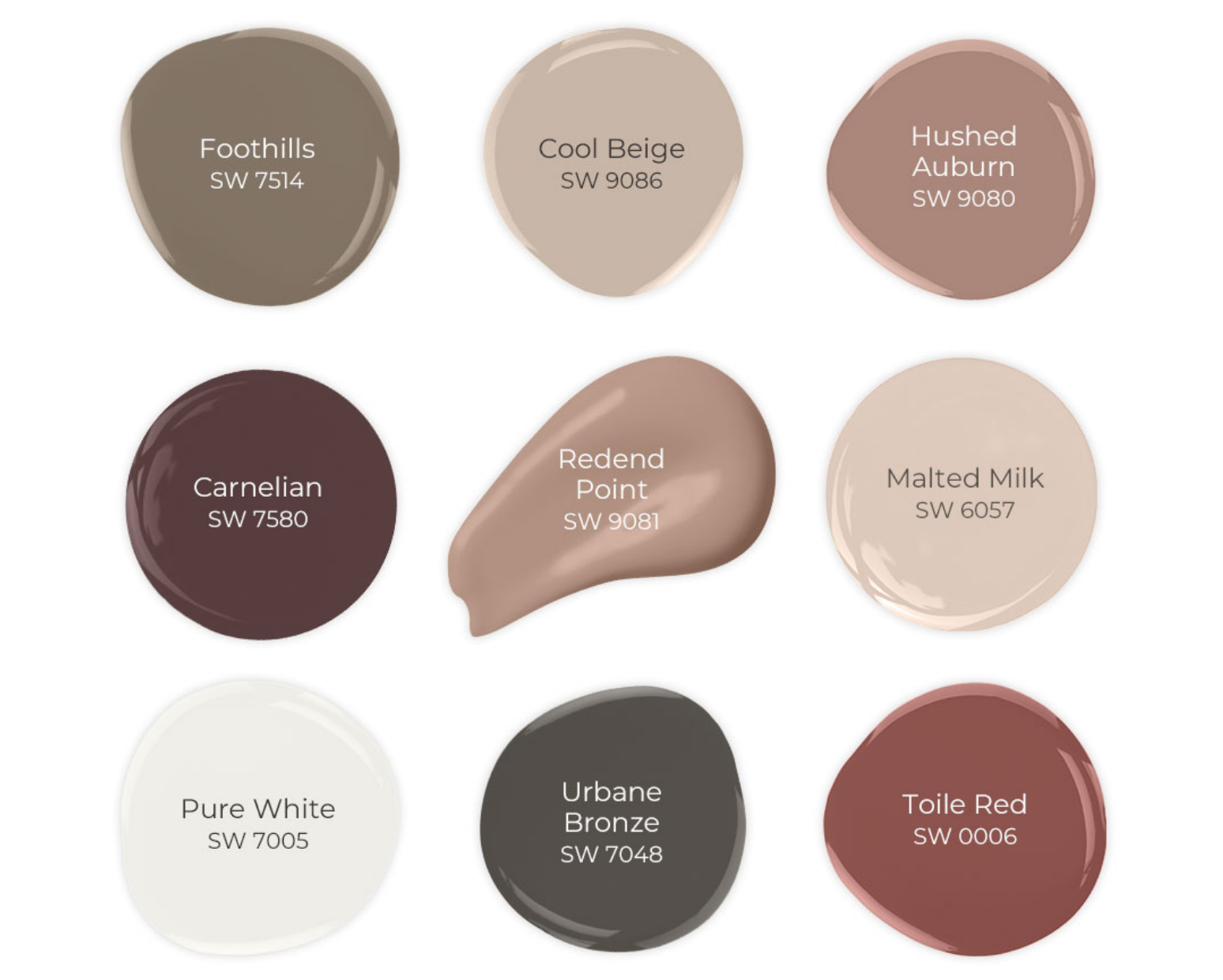 Images from Sherwin-Williams
Sherwin-Williams features Redend Point, a muted pink that is soft and earthy. They suggest pairing it with other alternatives in red and brown for a warm, welcoming palette. The modern look of the palette coordinates nicely with a minimal aesthetic.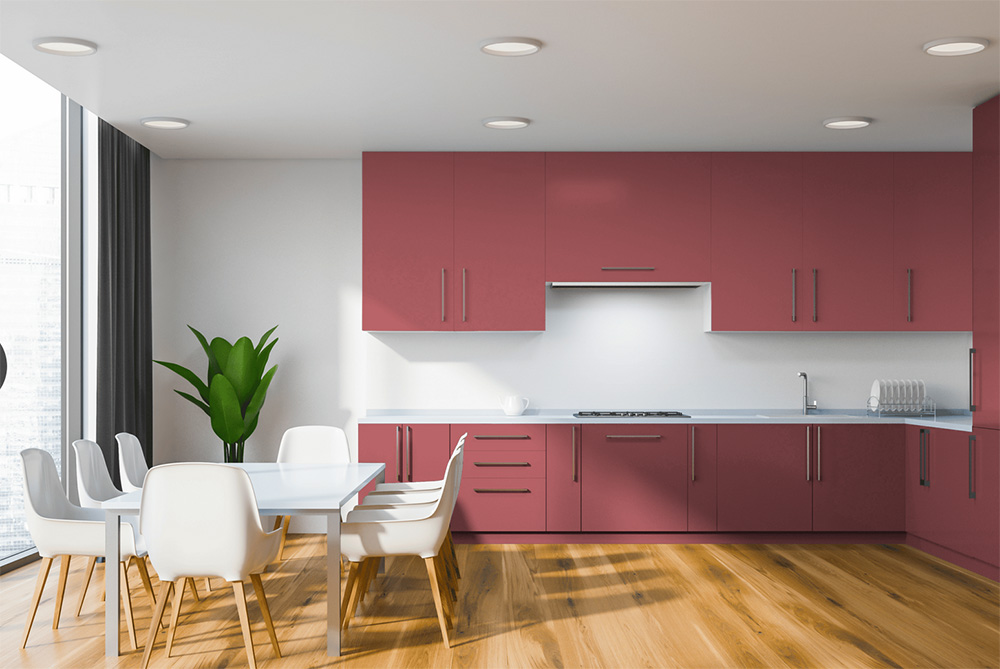 Image from Dunn-Edwards
The Color of the Year at Dunn-Edwards is a saturated, mid-tone version of pink called Terra Rosa. Although comforting and soulful, it is also bright enough to make an impact in any space. It is best used as an accent color.

Images from Benjamin Moore
Benjamin Moore selected vibrant Raspberry Blush as their Color of the Year. The color adds lively drama and energy to a room, so it should be used thoughtfully. To add to the trend of red and brown, Conch Shell and Cinnamon were also identified as some of the colors that will complement this bold hue.
Pastels
We must not forget about the popularity of pastels either. If you're looking to transform an interior into a cool summer retreat, you can't beat these color choices. They are perfect for achieving a light and airy feeling within a space, and they add hints of a feminine touch.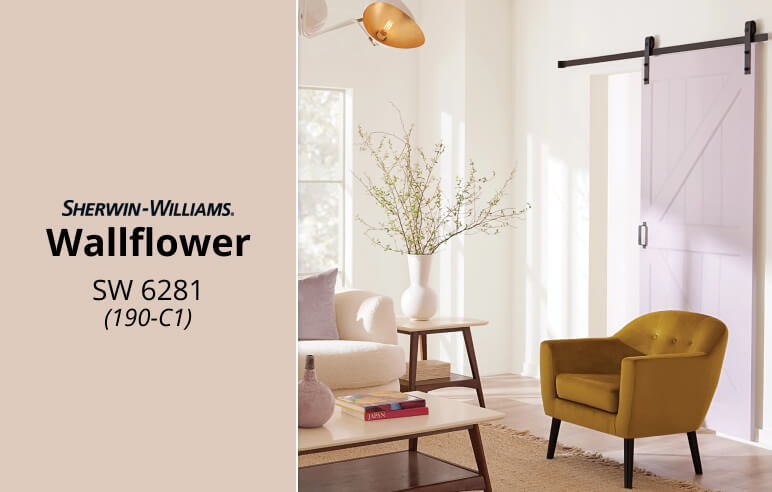 Image from Sherwin-Willliams
In addition to Color of the Year, Sherwin-Williams also chooses a Color of the Month. Their Color of the Month for May is a soft lavender tint called Wallflower. The color brings cheerfulness and a dreamy, ethereal quality to an interior space. It is also easy to pair with a variety of decor styles, from bohemian to modern minimalist.

Images from Valspar
Valspar also featured several pastels in their Colors of the Year palette. They included Gentle Violet, Desert Carnation, and Rising Tide. These colors are playful, but their gentleness makes them great choices for everyday living. They pair nicely with eclectic furnishings and conversation starters for a one-of-a-kind look with a bit of whimsy.
With so many gorgeous and unique colors available this season, it's an inspiring time to transform interior spaces with color! Let us know how you implement these summer 2023 color trends in your designs. And, if you find that you need an extra set of eyes during the process, don't hesitate to reach out to the 4Dbiz team for support. We can help you tackle your to-do list, including ordering samples, creating design drawings, sourcing, and placing orders. Schedule a demo with us to learn more!