Resources for how to build a more profitable interior design business.
As an interior designer and business owner, you have probably asked yourself these questions at some point in your journey: 
What should I charge the client?

Flat fee or hourly? 

How do I avoid these never-ending projects with no end in sight?

How can I confidently fire a client who doesn't respect my terms? 

How do I become more profitable?

How can I stay in control?
If you've been "winging it" and figuring it out as you go – good for you! You've been making it happen! 
But, it's likely that you've also been missing out on some opportunities for greater profitability, efficiency, and freedom in your business. 
Winging it is stressful. It's time to SOAR.
No matter how much time, energy, and investment you're ready to put in to achieve your goals, we have tools, resources, and support to help you get there!
FREE RESOURCE: Interior Design Proposal Builder
Quit spinning your wheels when it's time to price a job.
Our simple Interior Design Proposal Builder will give you insight into how to create estimates that are profitable for you, clear for your prospective client, and thorough enough to protect your bottom line, all in 12 simple questions!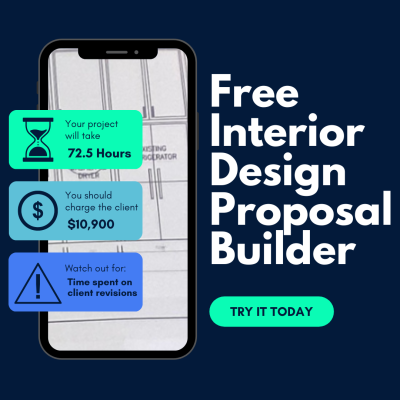 Once you complete the Proposal Builder, you will receive 4 emails over 4 days:
A Proposal Builder will be delivered to your inbox immediately. This simple tool will help you determine how long a project will take. And that is what should determine what the project will cost.
Once you complete the Proposal Builder and see our estimate for the project cost, we will follow up with a simple hour allocation "menu" that will help you understand how we calculated that estimate.
Next, you will receive a breakdown of our formula for increasing your hourly rate to $750/hour, without charging your clients more.
Finally, we're going to send you access to a variety of other business resources such as contract templates, marketing guides, product education, how to's, and more!
No spam, just actionable resources to help you be the best business owner you can be and learn how to build a more profitable interior design business.
Virtual Course: Interior Design Business Structure
Get access to our 40-page instructional course, plus 30+ resources like contract templates, marketing guides, custom product education, and more!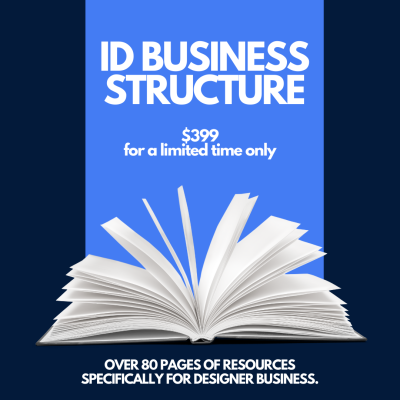 This course is broken down into 6, easy-to-digest modules that can be tackled all at once or as you need them: 
Create Your Brand And Marketing Foundation
Hone Your Sales Skills
Streamline Your Design Process
Profitability (proposal and contract templates included, a $5,000 value!)
Custom and Wholesale Product Education
How To Grow Your Business
At the end of the course, you should feel informed and empowered to bring your business to the next level… and to save yourself from costly mistakes!
Interior Design Business Bootcamp
Get the Executive-level strategy
and
hands-on execution you need to make measurable progress toward your goals – all for just $1995.
How does it work?:
This package is completely customizable to your business and your goals, and is the absolute best way to get started with our 4Dbiz team.

The $1995 price tag is equivalent to 13 Executive Hours with our CEO and CMO, or 30 hours of execution from our Virtual Design Assistant team – or some combination of the two.

Unlike other business coaches and courses, we're not JUST here to give you information that you have to work on and implement alone. We also give you access to our skilled team of professionals who can help you make progress today!
What are the deliverables?:
Access to our complete "ID Business Structure" course, which includes tons of educational content and over 40 templates like contracts, questionnaires, how to's, and more.

Organized client folder ready to be duplicated for all future projects.

Templated proposal builder to help you build effective proposals and maximize profit in every project.

Up to 30 hours of support to help you achieve your goals.
In just 2-4 weeks with our 4Dbiz Team, you will have a rewarding feeling of accomplishment for what was achieved and a clear sense of where you're going next. Get started today! 
Who is this for?:
If you can relate to any of the following, this package is for you.
I am so busy right now I can't even think straight.

I'm figuring it out as I go along and hopefully I'm doing this right.

If I had a streamlined system of procedures, I could probably take on more projects and grow my business.

I wonder how other designers are making all of this work for them.

If only I had someone to help me look over everything and identify where I could do better.

I want to invest in myself and set myself up for success.

I know what I want to accomplish in my business, but I just need support to make it happen.
What topics can we cover during this ID Strategy Bootcamp?:
Create a clear system of procedures to streamline your design process.

Completely overhaul your organizational systems.

Devise a monthly marketing plan and optimize all of your online marketing channels.

Develop a CRM system and get your first automated funnel(s) running.

And SO much more. The first step will be a 2 hour strategy call with our Executive Team to create a clear plan of attack based on your goals and needs.
Ready to get started? 
Upon purchase of this package, you will be asked to schedule the first 2-hour strategy session with our 4Dbiz CEO and CMO. During this call, we will define your goals and make a customized plan of attack. After, you will have a clear outline of how our team can help you, what we will achieve first, and how we will use the remainder of your purchased time. Let's do this! 
If you're serious about your ID business – seriously, you need this package. Unlike other business coaches or do-it-yourself books, this package is about getting the Executive-level strategy BACKED by hands-on execution from our whole team.
Join our community of design professionals!
Did you know that it is 100% FREE to create an account with 4Dbiz? When you register, you will get immediate access to our online portal and access to our free tools and resources.