Interior design is a highly visual field, so at some point or another in your career, a potential client will inevitably ask to see examples of your work. When this happens, it is crucial to be prepared with professional materials that showcase your work in the best light possible. How you present your work to potential clients can have a major impact on whether or not you close the job. But where should you begin? We have put together some of our best tips for interior design photography below.
Style Your Space
Before you invest in professional photography, make sure the space you plan to include in your portfolio is in tip-top shape! You should plan to spend some time styling and preparing it ahead of the photo shoot. Pay attention to little details by making sure that bedding is ironed, pillows are fluffed, and objects are arranged in a flattering way. You could collaborate with a professional stylist for this, if desired.
While the room should look clean and coordinated, keep in mind that you do not want it to look too impersonal either. The best interior shots tell a story and show viewers how a space is meant to be lived in. Look for simple accessories that photograph well and make sense for highlighting the function of the room. For example, you might include fruit, flowers, and cooking utensils on the kitchen counter to give viewers a glimpse of what it would be like to prepare a meal in that kitchen. The accessories you choose to style your space should include a good mix of different shapes, colors, and/or heights to create a sense of contrast and balance within the room. Be sure to put away any clutter that does not add value to the shot as well.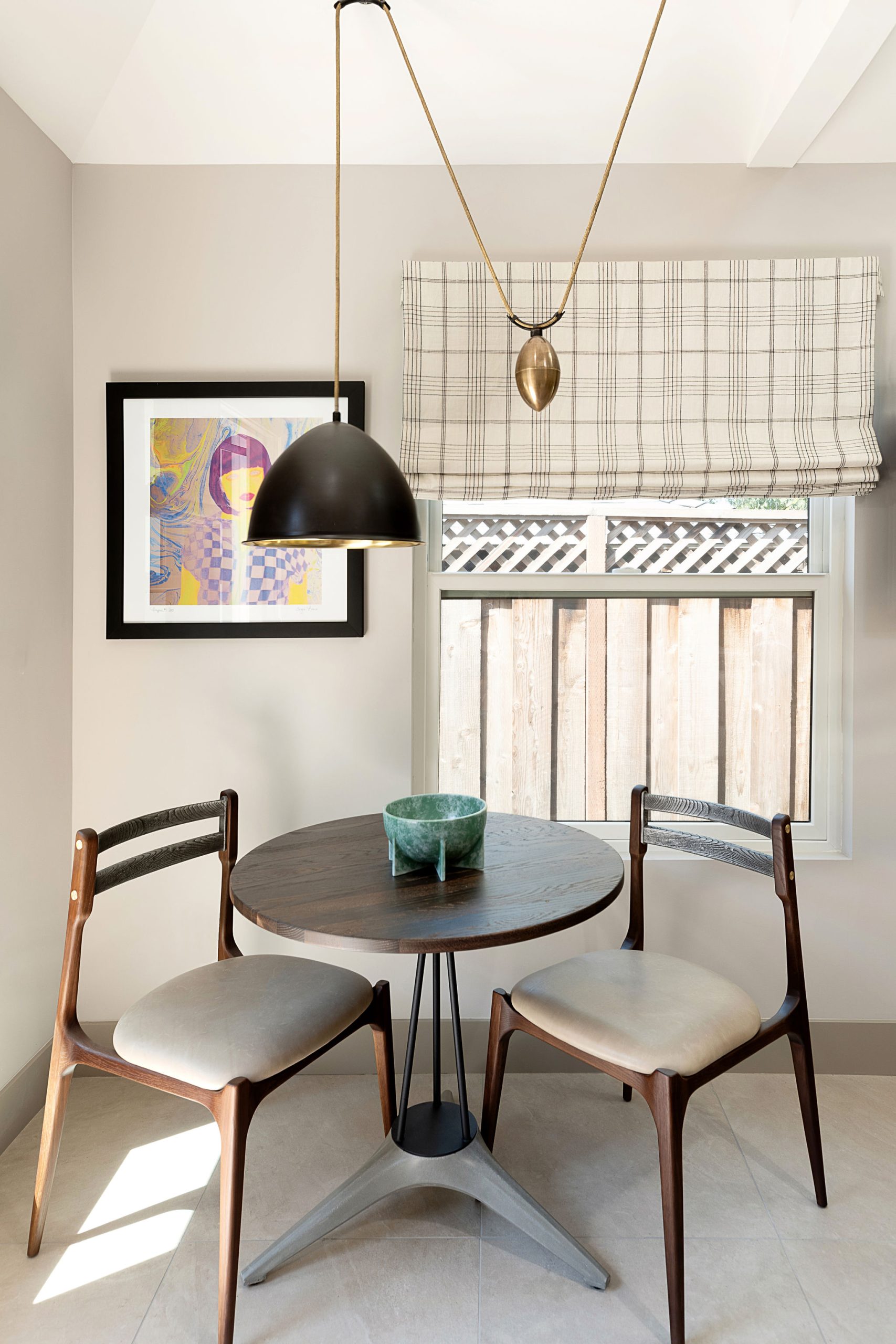 Design by Hannah Lowe Interiors 
Photos by Ella Sophie
Keep It Concise But Thoughtful
It never hurts to take more shots than you think you will need. Each room should be captured from a variety of different angles and perspectives. Try to include a combination of close-up detail shots and overall room shots, too. This will help you demonstrate your abilities to pay attention to detail and coordinate a cohesive look throughout a space.
When you have a sufficient collection of photos for each project, sort through them and choose 1 to 5 favorites from each project. This may be a challenge if they all turned out well, but realistically, nobody is going to spend hours flipping through each and every photo you have taken. Be selective and only choose photos that you feel are the best representation of your work.
Take Professional Photos
One of the most common questions interior designers ask when building a portfolio is whether or not they should have professional photos of their designs. While it is not 100% necessary, it can certainly give you an advantage when it comes to impressing clients. Photo quality is one of the most important factors when it comes to building a beautiful interior design portfolio.
As you probably know, lighting can completely transform an interior. It's important to make sure that the lighting is just right when you snap the final photos for your portfolio. You may opt to do this yourself if you are confident in your photography skills. However, if you aren't sure how to achieve the right lighting when photographing your space, it may be best to leave it to a professional photographer. When you work with a professional, they can also help you make your designs look cleaner by editing out cords, light switches, alarm systems, and other items that detract from a room's aesthetic.
You will most likely need to get permission from clients in order to photograph your designs once they are installed. The best way to do that is to offer to share the professional photos with your clients. You will be able to get the shots you need for your portfolio, and they will receive high-quality photos that they can use for real estate listings as well.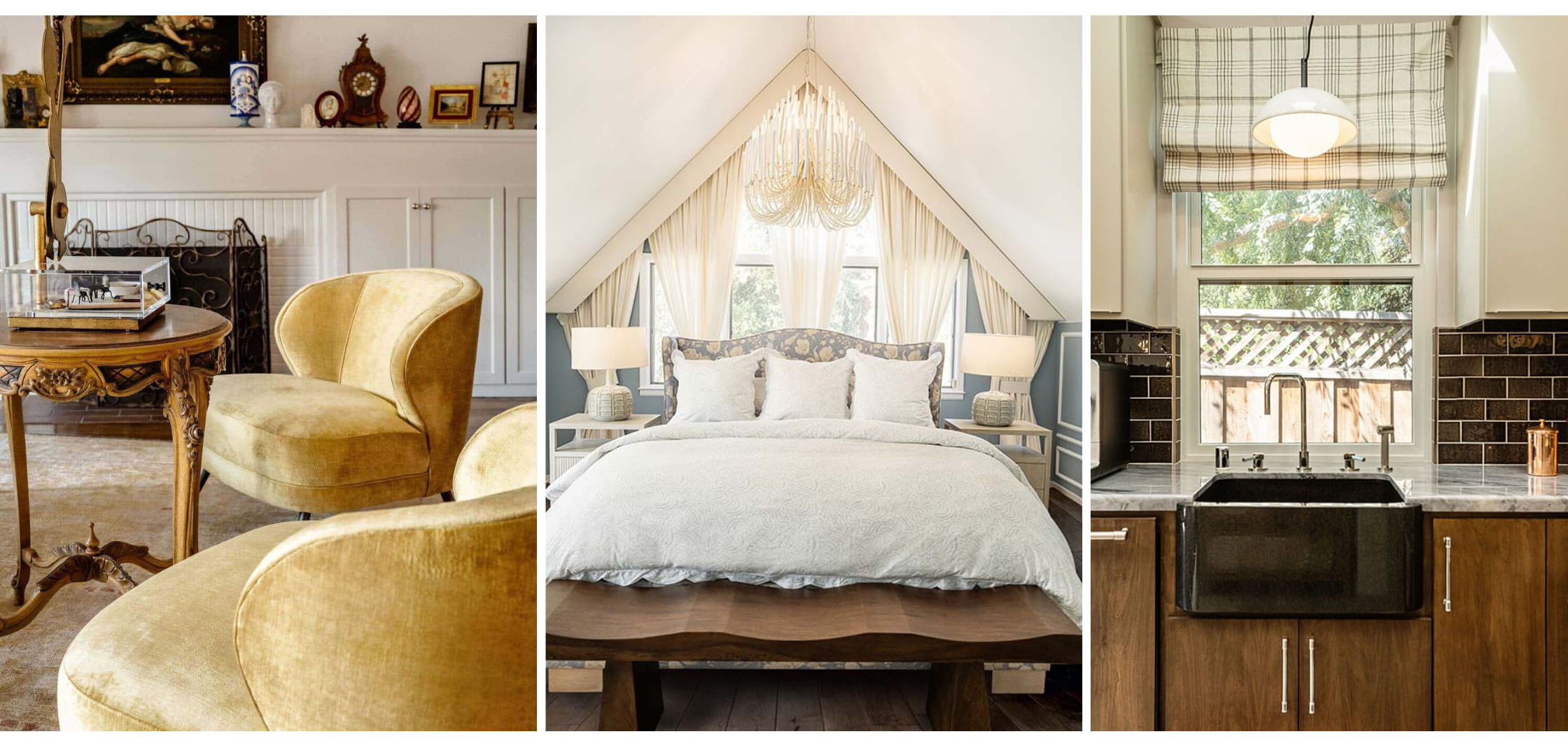 Designs by Hannah Lowe Interiors 
Photos by Ella Sophie
Maintain Consistency
While the photos you choose are important, don't concern yourself with the individual shots so much that you forget to pay attention to the overall presentation of your portfolio. Once you have selected your favorite shots, decide if you want to present them by project, room, style, or another organization system.
As the client flips from page to page, the transition between projects should appear seamless. Keep decorative elements, such as graphics and text, to a minimum and leave plenty of white space between images to direct the viewer's focus to your designs. If you do use text, use the same font style throughout the portfolio. Maintaining consistency will give your portfolio a clean and streamlined look, which demonstrates to potential clients that you put thought and effort into your work, business, and professional image.

Designs by Thornton Design
Web Design by 4Dbiz
These tips for interior design photography might be easier said than done if you already have a flourishing business that keeps you on your toes. If you're short on time and need help compiling your images in a way that wows potential clients, the 4Dbiz team would love to assist you. We can create beautiful, consistent materials, so that you can take pride in your designs and close jobs with confidence. Schedule an intro call today and let's discuss how we can work together to build a beautiful portfolio for you!